If you feel out of touch with qualifications since you left school yourself, you might be wondering what iGCSEs are. They are International General Certificates of Education. As the name suggests, they are internationally recognised and, many argue, are more thorough in their assessment than standard GCSEs.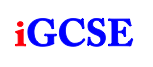 Many private and grammar schools are adopting them as they believe the focus on final exams as opposed to the modular, coursework focus of traditional GCSEs is more challenging. Some critics don't feel that iGCSEs match closely enough to standard GCSEs in terms of content, particularly for subjects like English through an iGSCE qualification, there is no compulsory study of Shakespeare. These disparities led to a ban on the teaching of core subjects like
English
,
Maths
and
Science
iGCSEs in state schools initially; a decision which was reversed in 2010 as their popularity grew.
The qualifications have a linear approach culminating in a final exam, which many consider to be more rigorous and a sound preparation for higher level study, particularly by sought-after universities, making them popular with Oxford and Cambridge.
iGCSE exam dates are set nationally set, if you're doing them independently of school you'll do them at the same time. To book your exam use an approved exam centre like
The Exam House
. You can find a list of approved centres through the relevant awarding body website.