This May, pupils in Year 2 and Year 6 will be sitting the new-style SATs for the first time, and as a parent it can be hard to know the best way to support them. With EdPlace you know you have a trusted online education partner to help your child achieve his or her potential.
What has changed?
The tests this year are based on the new National Curriculum, and there are a number of changes to their structure and content.
Key Stage 1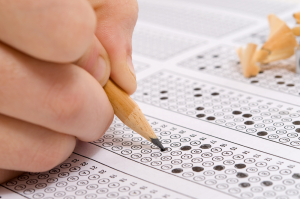 In Key Stage 1, there is no set day for pupils to sit the tests, but they must be administered some time during May. There is now a new set of tests for Key Stage 1, replacing the previous tests and tasks.
In English, pupils will sit a grammar, spelling and punctuation test alongside the reading test, and there is no writing test. The reading test consists of two papers: the first has the text and questions combined, while the second is more challenging, with the questions in a separate booklet. There will now be more emphasis on comprehension.
All pupils are to be given the opportunity to sit both tests, which is a change from the old-style SATs when only high achieving pupils took the second test. However, teachers can withdraw pupils at any time during the second test if they feel that they aren't coping well.
In maths, there is now an arithmetic test alongside the mathematical reasoning test. Some of the questions will have a grid to encourage pupils to use more formal methods of working out answers.
Key Stage 2
Key Stage 2 SATs will take place in May.
There will no longer be separate Level 6 tests for high achieving pupils; instead, the tests will include a small number of questions aimed at stretching more able pupils.
The reading paper will now have a greater emphasis on fiction, and there will be a grammar, punctuation and spelling test. Pupils will be expected to know and apply specific grammatical terminology. There is no writing test.
In maths, there will now be an arithmetic paper instead of a mental maths paper. This new paper assesses basic mathematical calculations, and there will be an element of time pressure, so pupils with a good knowledge of their times tables and number bonds will be at an advantage. Pupils will take this paper alongside two mathematical reasoning papers. As in Key Stage 1, grids will be provided for some answers to encourage formal methods of working out.
There are no national tests for science, but a selection of schools will be taking part in science sampling tests.
How will the tests be scored?
The tests will no longer be graded with National Curriculum levels. Instead, pupils will be given a raw score and a scaled score. The scaled score will show whether or not a pupil has achieved the expected national standard, which has been set at 100.
How can I help my child perform well in this year's SATs?
Parents naturally want to help their children perform to the best of their ability, but when the tests are new it can seem quite daunting. This is where EdPlace can help. Have a look at our new revision pages, specifically designed to help your child prepare for the new SATs. The revision worksheets contain a wide range of questions covering the main objectives for each year group. Once your child has completed a revision worksheet you will have a better idea of where he or she may need extra help.
You can then visit our National Curriculum pages for each year group and subject and select individual worksheets for your child to complete. All worksheets have been written by qualified teachers and are precisely matched to the new curriculum, so you know your child is being given targeted support.
It is important not to increase anxiety levels in your child, which is easily done if you are feeling anxious yourself. With support from EdPlace, monitoring your child's progress is straightforward, and you can set achievable targets that won't add to stress levels. Learning can be fun, and with EdPlace's rewards and badges it is easy to motivate your child.
Where can I find out more?
If you would like to find out more about the new National Curriculum and SATs tests, you may find the following video helpful:
[youtube https://www.youtube.com/watch?v=t7dgWlInpok]
Resource: Department for Education https://www.gov.uk/government/organisations/department-for-education
Written by Ms Davison, EdPlace's teacher