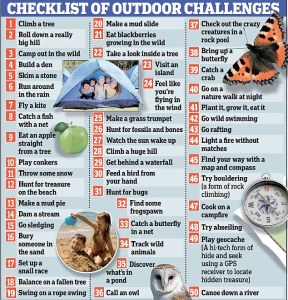 The National Trust has recently produced an interesting and beguiling list of 50 experiences a child should enjoy and be challenged by, before the age of eleven and three quarters. Tree climbing, stone skimming, den building are naturally included and it is true children yearn for and we reminisce about a swallows and amazons world of childhood. There is no denying that children and their families should embrace the kind of activities the National Trust are recommending.
I have fond memories of my own children building camps on the Ashdown Forest with their father and grandfather and they regard this time as a significant building block in their childhood. These challenges and activities give confidence, develop high levels of self-esteem, encourage empathy, promote team building skills, while learning how to take risks safely. All essential in the development of a well-balanced child and fundamental in enabling the acquisition of the skills necessary in the work-place and life generally.
We are, however, responsible for equipping children with a range of skills and understanding for the modern world even though it is almost impossible for most of us to predict what that is going to look like. But a balance between the best of traditional, tried and tested childhood experiences, and an awareness and competence in our ever changing and progressive technological world is vital. Looking to the future it is important to give due regard to how much more confident and adept the current generation of young people are in using multi media and communication technologies than even the 30 somethings. It is essential therefore, that in order to maintain and progress children's levels of confidence and self-esteem that they will need to navigate the modern world and drive their future, that we embrace new technological opportunities that enliven and stimulate learning, expand vision and opportunity for what is possible and what may even be seen as impossible!
Maintaining traditional values and beliefs outlined in the National Trust recommendations is critical for healthy mental, physical and emotional well-being - very few people would argue with that. However, the reality is that few today would support the King Canute principle in trying to hold back the tide of progress in the technologies that have changed and mostly enhanced our lives. The modern child needs to be conversant and competent in all these skills and opportunities. Indeed, The National Trust guidance is an excellent prerequisite and natural compliment in helping children handle the technological world. Learning how to calculate risk, to plan ahead, to predict the next move and communicate clearly are complimentary skills.
So, moderation in all things and a sensible balance in everything life has to offer, seems a rational route to tread, run or browse!