This worksheet is about subtraction in columns with borrowing if necessary.
Example
Work out the subtraction.
Answer
Set out a subtraction in columns, lining up the decimal points.
Add a zero in the hundredths column for 857.4
Subtract starting in the right-hand hundredths column, borrowing from the next column if you need to.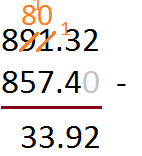 The answer is 33.92