This activity is about the number of days in each month.
Remember this rhyme.
30 days hath September,
April, June and November,
All the rest have 31,
Excepting February alone
(And that has 28 days clear,
With 29 in each leap year).
Or this diagram.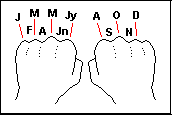 Want to understand this further and learn how this links to other topics in maths?
Why not watch this video?