"I think of a number, divide by 5, then add 4 and the answer is 7. What number am I thinking of?"
If you have completed any of the previous 'Equations' activities you will be familiar with this sort of puzzle. So what is different about this one? Well, this is the first puzzle to include division and this is important when we think about how to write it as an equation. When writing algebra we do not use the '÷' symbol but we write it as a fraction. So in order to write this puzzle as an equation with x as the unknown number we write: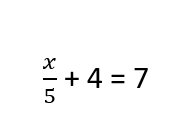 Other than this there is no difference between this and other 2-step equations. In this case, x has been divided by 5 the had 4 added. To solve it we must apply the inverse operations in the reverse order. So first we subtract 4 then we multiply by 5, remembering to do the same to both sides.
We set out our working as follows: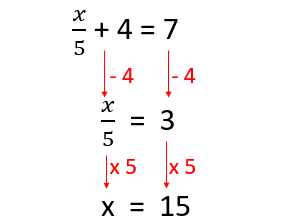 So the number I thought of was 15.
Here is another equation, slightly different.

Notice here that the line goes under the 'x - 12', not just the 'x'. This changes the order, meaning that starting with x, first, we subtract 12 then divide by 3. So applying inverses in reverse order we must multiply by 3 then add 12. Here is our working.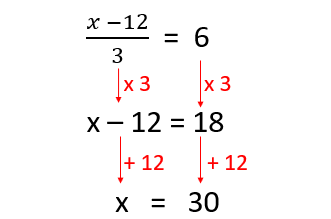 Get the hang of it?
Note: Sometimes you might see these equations written slightly differently.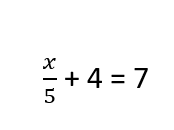 can also be written as x/5 + 4 = 7.

can also be written as (x - 12)/3 = 7.
You should watch out for these, they have been used in some of the questions. Have a go at them now.