This worksheet is about calculating angles at the centre and circumference of a circle.
Angle Rules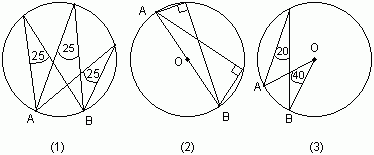 1) Angles in the same segment, on the same chord, are equal at the circumference.
2) The angle on the circumference on a semicircle, on any diameter is a right angle.
3) The angle at the centre is twice the angle at the circumference (from the same chord).
Example
Find the angle marked x in this diagram.


a = 39
x = ____
Answer
x is half of a, according to rule 3 above.
x = 39 ÷ 2 = 19.5 degrees