To find the "modulus" or "absolute value" or size or length of a vector, we imagine it drawn on a set of coordinate axes and use Pythagoras' Theorem to calculate its size.
Example
Calculate the length of the following vector to 3 sig. figs.:
Answer
We picture the vector as a horizontal and vertical shift.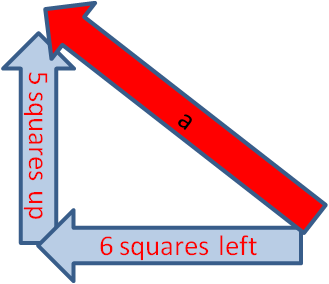 By Pythagoras' Theorem, we get:
a2 = 62 + 52
a2 = 36 + 25
a2 = 61
a = √61 = 7.810249...
a ≈ 7.81 (3sf)