Many real life problems involving forces, air currents, river currents etc. can be solved by drawing a vector diagram and then using trigonometry and Pythagoras' Theorem to work out angles or measurements.
Remember that your vector diagram does not have to be accurate and is just to help you visualise the information given.
Example
Jack wishes to row straight across a river but there is a 1.5 m/s current. He sets off at an angle of 40º to the bank. At what speed must he row, and what will be his resultant speed across the river?
Answer
First we transfer the information given on to a sketch.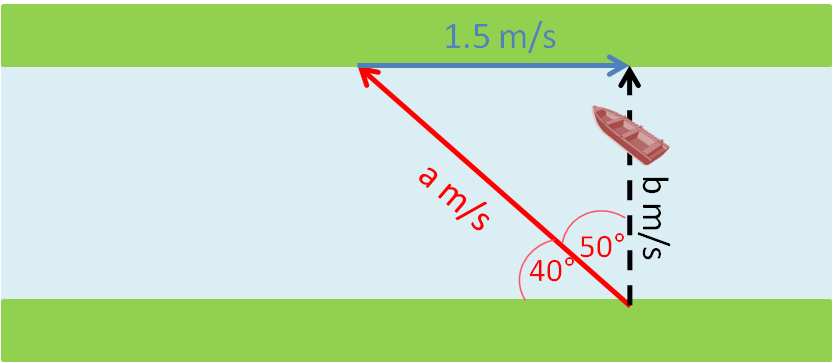 Notice that Jack has to row against the current to reach his goal directly opposite his starting point. He rows at a m/s and his resultant speed is b m/s.
To work out a
We work out the angle inside the right-angled triangle as 90 - 40 = 50º.
The trigonometric equation will be:
1.5/a = sin 50º
a = 1.5/sin 50º
a = 1.96 m/s
To work out b
Method 1
The trigonometric equation will be:
1.5/b = tan 50º
b = 1.5/tan 50º
b = 1.26 m/s
Method 2

Pythaoras' Equation will be:
1.52 + b2 = a2
b2 = a2 - 1.52 = 1.962 - 1.52 = 1.5916
b = √1.5916 = 1.26 m/s