This worksheet is about matching curves to equations.
Example
Match the curve with its equation: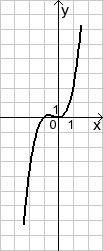 y = x3 −2 OR y = x3 +x2 OR y = x2 - 2
Answer
Look at the curve. It has a cubic shape so will definitely have an x3 in the equation.
Then look at what happens when x = 0.
It passes through (0,0), so the equation cannot be y = x3 −2
The equation is y = x3 +x2
(check that this passes through (-1, 0). When x = -1, y = -1 + 1 = 0