This worksheet is about equations of circles.
Example
Write down the equation for the given circle:

Hint: Measure the radius first.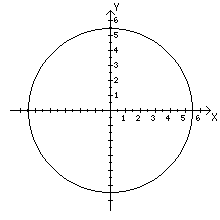 Answer
Radius is 5½
We work out the square of 5½ which is 30¼.
Equation is....
Note
Use fractions in this worksheet. All radii are on the quarter, half, third or two-thirds marks.