A quadratic equation can sometimes be solved by drawing its graph on a set of xy coordinate axes and then seeing where the graph meets the x-axis.
Example
Using a graph, solve for x:
x2 + 2x - 8 = 0
Answer
First we draw the line of y = x2 + 2x - 8 and find the x-values for when y = 0.
In other words, we are looking for where the line y = x2 + 2x - 8 and y = 0 (the x-axis) meet.
These will be the points where y = x2 + 2x - 8 crosses the x-axis.
NB. If the curve does not cross the x-axis, then there will be no real solutions to this equation.

To plot y = x2 + 2x - 8 use a table, choose x-values and work out the y-values.
| | | | | | | | | | |
| --- | --- | --- | --- | --- | --- | --- | --- | --- | --- |
| x | -5 | -4 | -3 | -2 | -1 | 0 | 1 | 2 | 3 |
| y = x2 + 2x - 8 | 7 | 0 | -5 | -8 | -9 | -8 | -5 | 0 | 7 |
When we plot these as (x, y) coordinates we get a parabola which looks like this: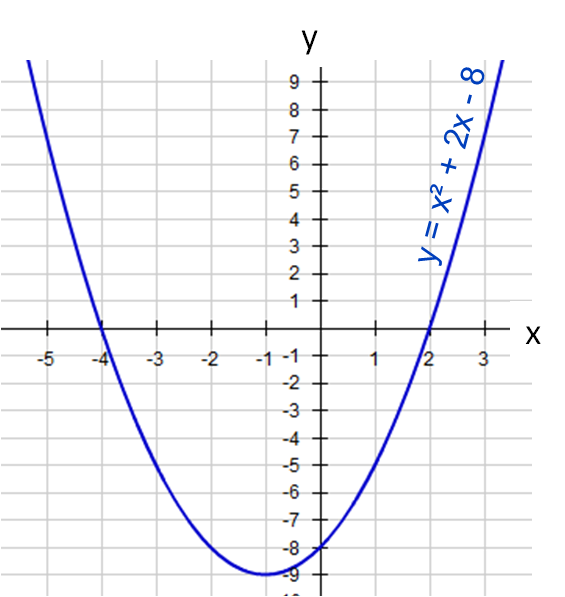 The intercepts on the x-axis are at (-4, 0) and (2, 0)
Solution is:

x = -4 or x = 2