Around 15 billion years ago all of the matter in the Universe was one single point. Imagine how compacted everything was! The temperature in that single point was more than one trillions degrees Celsius, literally hotter than anything there has ever been or ever will be. Nobody is yet sure why or how that single point exploded, and the Universe took a form similar to how we know it today. It all happened in a small fraction of a second and we call this explosion the Big Bang.
After one-ten-millionth of a second, the temperature dropped to one billion degrees Celsius, what a relief! In one second there were electrons, protons and neutrons and after three seconds hydrogen and helium were formed.
The estimated mass of the Universe is 3 x1052 kg. That means you have to multiply 3 by 10 000 000 000 000 000 000 000 000 000 000 000 000 000 000 000 000 000! Not a small mass indeed! How could it fit into that small point? The density was really high.
Scientists have found that the Universe is expanding, which means galaxies are moving away from each other. There is a theory stating that the Universe will reach a maximum size and will then start collapsing, returning to the original small point; this is called the Big Crunch. In order to demonstrate the expanding Universe, you can draw dots on a balloon to represent galaxies and then blow it. The bigger the balloon gets, the faster the dots will move away from each other.
Scientists have come to the conclusion that the Universe is expanding due to redshift. Red shift is difficult to understand, so pay close attention: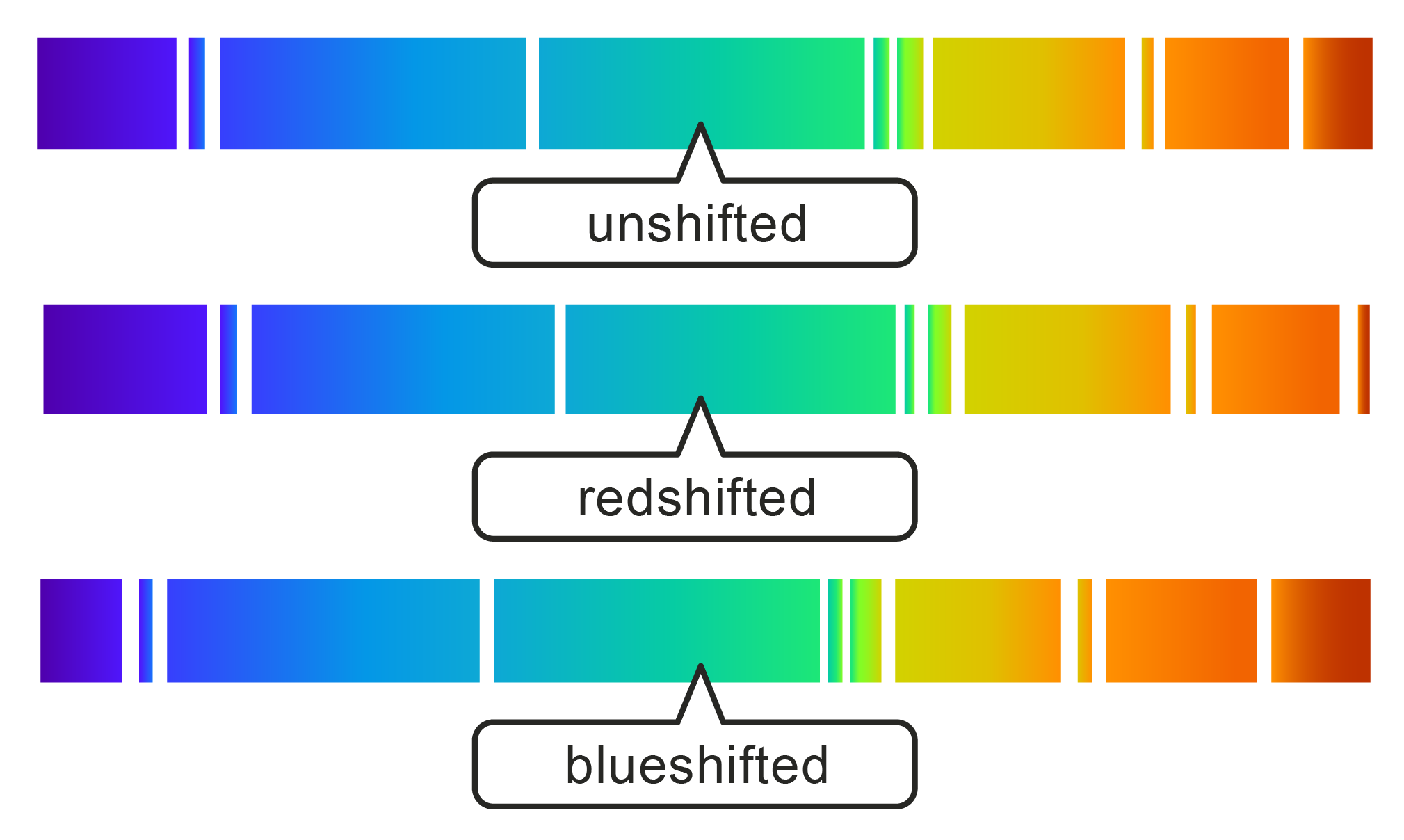 The Earth constantly receives signals from all parts of the Universe. The spectrum of white light we receive from the Sun is shown in the diagram as unshifted. Watch the white vertical lines. On the redshifted spectrum of the diagram the white lines are the same distance apart, but have shifted towards the red end. This is light from a distant star and the redshift means it is moving away from us. The opposite happens with blue shift.
To understand red shift a bit better, recall the last time you heard an ambulance or police siren. As it was approaching you the sound was higher pitched than when it was moving away from you, but the sound the siren made was actually the same. It was just that you could hear a different pitch sound depending on its distance from you.