Did you know that we have literally hundreds of satellites looking at the sky for asteroids and meteors that could collide with the earth and destroy human life? It's kind of scary to think that there is stuff out there that will collide with us and we won't see it until it is too late, but that is a real possibility. This is because of fo the way that the solar system is put together - let's look to how it is put together in this activity.
The Earth is part of our Solar System, a group of planets that orbit the Sun. The Sun is the only star in our Solar System, but there are many more stars in our galaxy: the Milky Way. Stars are very hot and produce their own light. There are many more galaxies beyond the Milky Way and other groups of stars in them.
The Earth has its own satellite called the Moon. Below is a diagram of our Solar System: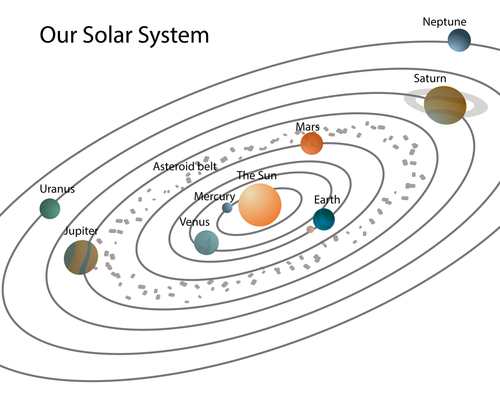 Pluto is no longer considered a planet due to its size and its changing orbit around the Sun. Apart from the planets and their moons, there are other objects in the Solar System, like asteroids, meteors, comets and meteorites.
Comets have elliptical orbits, They pass inside the orbit of Mercury and then reach way past Pluto. They are made of ice filled with dust and rock and have a tail of debris. Asteroids are similar but do not have a tail. Meteors are made of dust grains, which burn up as they come into the Earth's atmosphere. Meteorites are larger rocks which do not burn up. When objects like these pass near the Earth's orbit we call them near-Earth objects (NEOs).
NEOs and other objects of the Universe can be seen with telescopes. Scientists have sent manned and unmanned spacecrafts into space to study it and look for the possibility of life outside Earth.
Now we will answer some questions on Earth in the Universe.