Some materials give off different types of invisible radiation; these materials are called radioactive. We now know that radioactive materials give off radiation because of changes which happen in the nuclei of the atoms the material is made of. Because we understand how radioactivity works, we are also able to use it in medical and engineering applications.
How radioactivity was discovered
The first experiment which showed that some materials are radioactive was done by Henri Becquerel. In 1896, he placed some lumps of a salt containing uranium on a photographic plate (used in the cameras of the time), and left them in a dark place. You can see one of the photographs he took by clicking on this link. (Right-click, and open in a new window). The dark patches are where the lumps of salt were, which showed that the salt was giving off radiation, even though nothing could be seen. The cross in the lower patch was where a metal cross had got trapped between the radioactive lumps and the photographic film.
From this, Becquerel worked out three things:
1. The photographic plate was detecting radiation coming from the lumps of salt. (We now know that this was due to the uranium.)
2. The radiation was invisible to human eyes.
3. The radiation given off by the lumps of salt could be absorbed by a thin sheet of metal.
Other scientists (including Marie Curie and Ernest Rutherford) joined Becquerel in doing experiments like this, and found that a lot of other materials were radioactive.
Telling alpha, beta and gamma radiation apart
The experiments showed that there were three types of radiation which could be distinguished by how easy or hard it was to stop the radiation. They were called alpha, beta and gamma radiation.
Alpha radiation (α) is the easiest to stop. A few centimetres or air, or a very thin piece of paper, are able absorb it.
Beta radiation (β) is harder to stop. A sheet of aluminium about 3 milimetres thick is needed to absorb it. Beta radiation can travel through a few metres of air before it is reliably absorbed.
Gamma radiation (γ) is most able to penetrate through objects. To absorb a beam of gamma radiation needs a sheet of lead about 300 mm thick, or several metres of concrete.
These results are often shown in a diagram: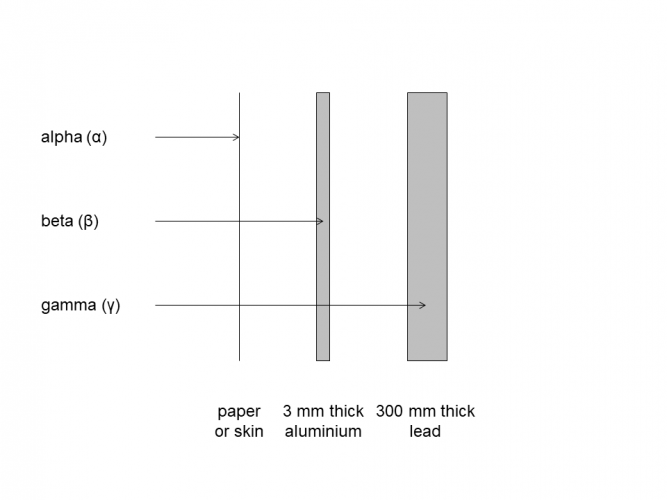 You might have to draw this diagram from memory in an exam, or complete an incomplete version of the diagram. Be careful to do this accurately; alpha radiation stops at the sheet of paper, not before or after, and beta radiation stops in the aluminium sheet.
Many applications of radioactivity depend on the way that different radiations are absorbed or transmitted. For any radiation and absorber, a thicker layer of the absorber absorbs more of the radiation than a thinner one. You could be asked a question like this:
In a paper factory, radiation from a radioactive source is used to check that the paper doesn't get too thick or too thin. If the paper is too thin, too much radiation will pass through. If the paper is too thick, too little radiation will pass through. Which type of radiation (alpha, beta or gamma) must be used?
Answer: Beta radiation needs to be used: alpha radiation cannot penetrate even very thin paper, and gamma radiation will penetrate through any thickness of paper.
Other properties and other radiations
As scientists found out more about radioactivity, they found other properties of the different radiations (mass, charge and how easily they ionise other materials), and also some other types of radiation. The properties you need to remember are listed in this table.
Radiation
Mass
Charge
Penetrating power
Ionising
power
What the radiation is
Alpha
4
+2
low
high
2 protons + 2 neutrons, ejected from the nucleus
Beta (or beta minus)
1/2000
-1
moderate
moderate
1 electron, made in the nucleus and then ejected
Gamma
0
0
high
low
A pulse of energy, ejected from the nucleus
Positron (or beta plus)
1/2000
+1
moderate
moderate
A positively charged version of an electron, made in the nucleus and then ejected
Neutron
1
0
very high
not directly ionising
1 neutron, ejected from the nucleus
The mass is on the atomic mass scale (so a proton or a neutron = 1 on this scale).
The charge in on the electron scale (so a proton = +1 and an electron = -1).
Penetrating power describes how easily the radiation passes through other materials.
Ionising power describes how strongly the radiation can ionise other materials; in other words, how easily it can remove electrons from other materials and change their properties.