Circular motion:
For an object to move in a circle, a force has to act on it all the time. It is called centripetal force and it acts towards the centre of the circle. Gravity is the centripetal force that keeps planets moving around the Sun and satellites moving around planets. Gravity is the force that attracts masses in the universe; it depends on the masses involved and decreases as the distance between the objects decreases. It follows an inverse square law and can be shown by this equation: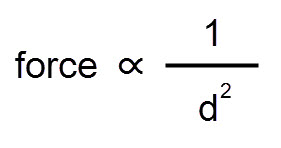 It means that the force between two objects is inversely proportional to the distance between them squared, so if the distance is doubled, the force between the objects decreases to one quarter.

Projectile motion:
A ball is a projectile, because it moves through the Earth's gravitational field. It follows a parabolic trajectory (called parabola), which means it falls towards the ground because of the Earth's gravity. Other projectiles are javelins and darts. Once a projectile moves, the only forces acting on it are gravity and air resistance. The latter is usually ignored.

You must remember two things about projectile motion:
1. The horizontal velocity remains constant
2. The vertical velocity increases as gravity accelerates the projectile

Two factors affect the range of a projectile:
1. Its initial velocity
2. Its launch angle

The faster it travels at the start, the larger the range.