Cells with a similar structure, which perform the same functions, form groups called tissues. Tissues form the organs in plants and animals. Organs form organ systems which, all together, make up the whole organism.
cells

tissues

organs

organ systems

organism
Animals
Here are some important animal tissues:
muscular tissue, which brings movement
glandular tissue, which secretes important chemicals like hormones
epithelial tissue, which covers body surfaces.
The table below lists the places where some important chemicals in the body are secreted:
| Hormone | Where it is secreted from in the body |
| --- | --- |
| adrenaline, increases heart rate preparing the body for action | adrenal glands |
| oestrogen, controls the menstrual cycle | ovary (females) |
| testosterone, stimulates sperm production | testes (males) |
| insulin, controls blood sugar level | pancreas |
| thyroxine, controls metabolism | thyroid gland |
The brain contains the hypothalamus, which controls the pituitary gland.
There are several organ systems in the human body, such as the nervous system, the reproductive system, the digestive system and the respiratory system. Study the organs of the human body carefully, using the following diagram: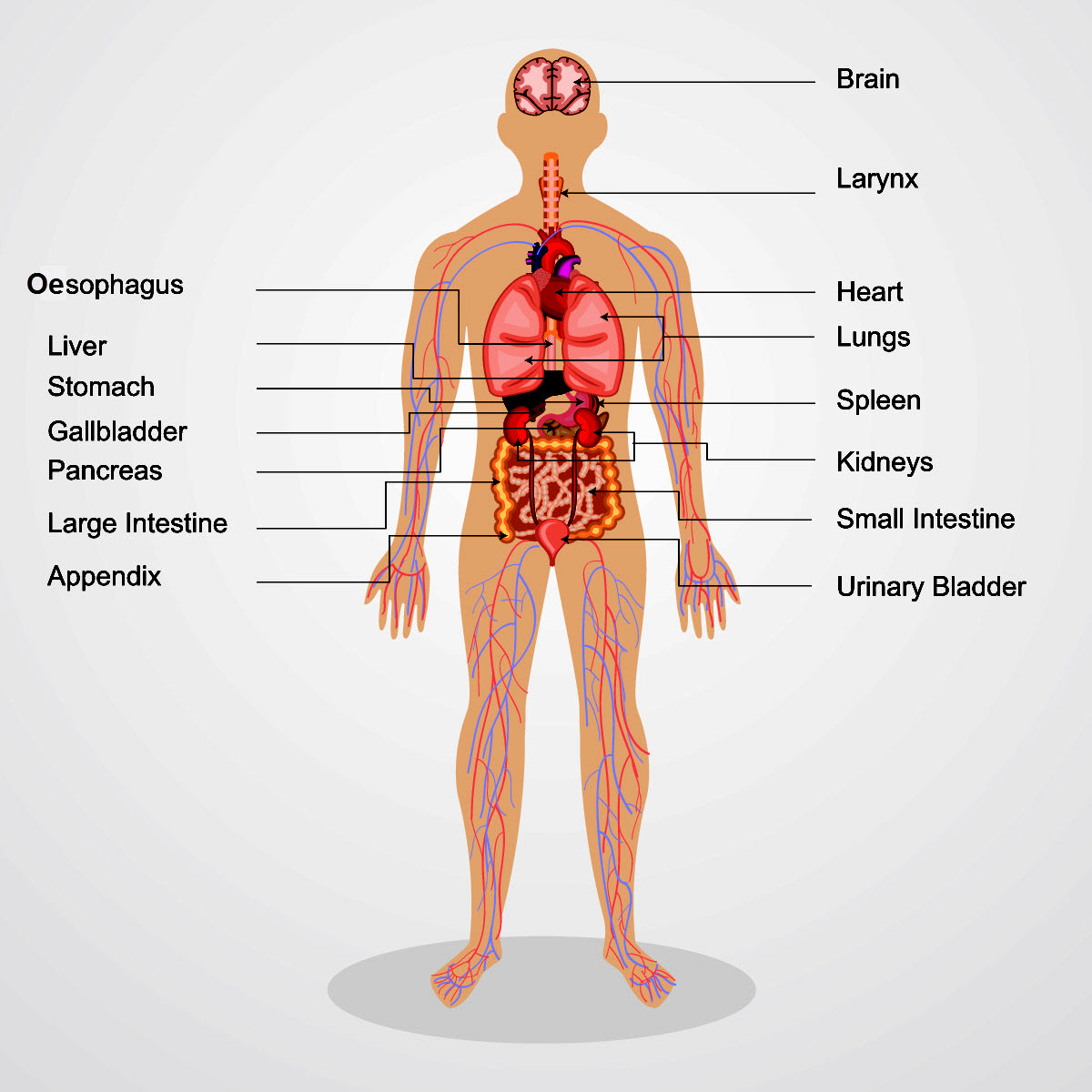 Plants
Plants have a different set of tissues:
epidermal; which covers the plant like our skin
mesophyll; responsible for photosynthesis
xylem and phloem; which carry food and water along the plant
Leaves are important plant parts, as they are specially adapted. The chloroplasts in their cells contain chlorophyll to trap sunligt for photosynthesis. They have a large surface area to absorb as much light as possible. Stomata (small openings) let carbon dioxide diffuse into the leaf for photosynthesis and also let water out into the atmosphere.
For your exam you should be able to describe the structure of a leaf. This is shown in the diagram below. The cuticle is made of wax and protects the leaf preventing excess water from entering. The epidermis is a thin, transparent layer of cells to allow more light to reach the palisade cells, which absorb light. The palisade cells contain more chloroplasts to increase light absorption. The spongy mesophyll area has air spaces to allow carbon dioxide to diffuse through the leaf.