A resistor can be used to change the electric current (I) in a circuit. It can be a fixed resistor or a variable one (rheostat). The voltage (V) that a current produces depends on the resistance (R). The formula that connects current, voltage and resistance is: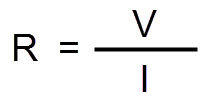 The unit of resistance is ohm (Ω), current (ampere, A), voltage (volt, V)


Uses of resistance
A piece of wire has a resistance of 5 Ω and melts if the current through it exceeds 8 A. What is the maximum possible voltage that could cross the wire, without melting it?
To answer this, you need to rearrange the equation. For current, it would become: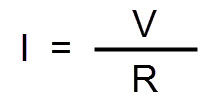 and for voltage it would be V = I x R. So, in our question V = 8 x 5 = 40 V
This is a picture of a resistor: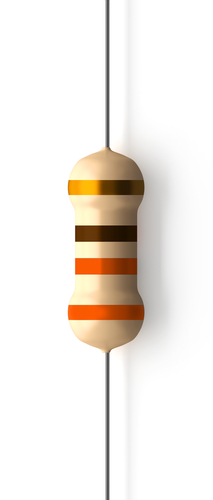 The current in a circuit must not be allowed to get too high. Electrons bump into the atoms of a resistor, which makes the atoms vibrate more and the resistor get hotter. This makes the flow of electrons difficult and resistance increases. Filaments (a tiny thin wire in a light bulb) becomes so hot that it emits light.