All atoms contain electrically charged particles, protons with a positive charge and electrons with a negative charge.
Protons are fixed in the nucleus of an atom, but electrons are free to move from one material to another, like when you rub two insulating materials together. The accumulation of electrons in a material is called static electricity. Try rubbing a balloon on your jumper; then see how it sticks on the wall. This is because when you rub it, electrons from your jumper give the balloon a negative charge. This then repels the electrons on the wall and the positive charge left attracts the negative charge of the balloon. The diagram below shows how hair is attracted to the balloon due to static electricity.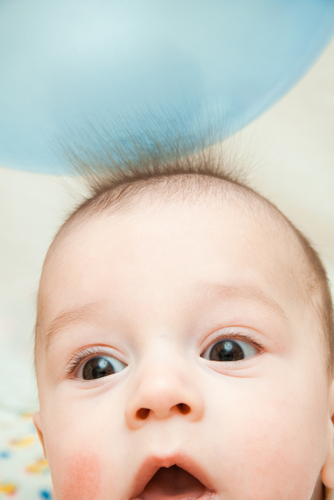 Lightning is also caused by static electricity (see diagram). Lightning can injure people and damage buildings.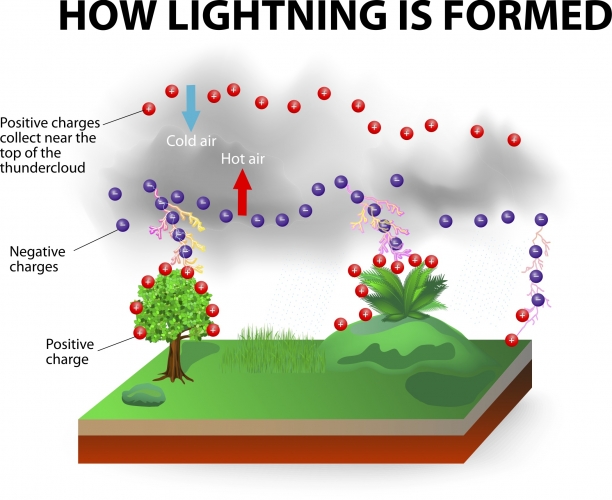 Static electricity can build up in aircrafts as they move through the air, and in tankers that deliver fuel to filling stations, so they need to be discharged appropriately. However, static electricity can also be useful in electrostatic spray painting.
Going back to the example of the balloon, the attraction between the balloon and the wall is due to the electric force, which occurs when the charged balloon is held some distance away from the wall. It is a non-contact force, which acts inside its electric field. There is a formula that shows the magnitude (size and strength) of an electric field:
electric field strength = force / charge