The world we live in was a very different place millions of years ago. Most of the organisms we know now did not exist. Instead, dinosaurs lived all over the Earth. We know this from fossil records.
Fossils are the remains of dead plants and animals that turned into stone over millions of years. Some species, like the horse, have changed significantly over time and we know this because we have a complete fossil record of the horse. This is called evolution. We do not have fossil records for all organisms.
Creationists took advantage of the lack of fossils for all organisms to oppose the concept of evolution; they support the idea that organisms were created.
There are two main theories of evolution, but the one that Charles Darwin developed is the one that was accepted widely and is still believed. However, all theories of evolution have a common explanation behind them and they are related to the organisms being adapted to their environment so they can survive.
Let's explore evolution into more depth by going through some questions.
A few years ago, scientists discovered the 12 000 year old remains of an adult human, just one metre tall. These tiny people that lived in Indonesia were given a nickname: 'Hobbits'.
'Hobbits' had skulls the size of a grapefruit, but were still intelligent enough, as they were able to make tools. Like primates, they had long arms. Where do you think they lived and why?
In the sea, because long arms help in swimming.
In trees, because long arms help in climbing and swinging on branches.
In caves, because long arms help in excavating.
Bones and shells decay much more slowly than other parts of the body. These parts are usually the ones that fossilise. When dead animals are covered with sediment (soil and rocks that sink to the bottom of the sea), they are buried and bones and shells are replaced by minerals, which then turn into stone and form a fossil. Can you see the layers on the rock in the picture below?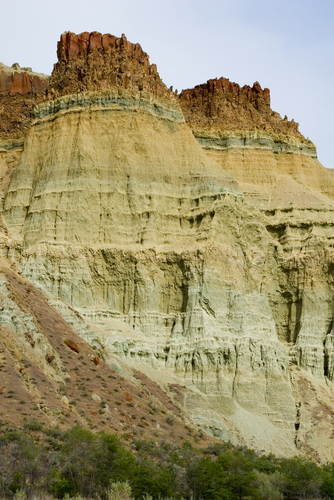 Fossil A was found in the top layer of the rock, whereas fossil B was found in the bottom layer. Which fossil is the oldest one?
Tick two reasons Creationists use to argue against evolution.
Organisms evolve to adapt and survive in their environment.
There are gaps in the fossil records of some organisms.
Some organisms do not show gradual change; instead they disppear.
All organisms have a complete fossil record.
Look at the picture below, showing how horses evolved over millions of years. Observe that horses actually had toes to start with, which were gradually replaced by a hoof.

Why do you think horses evolved to have hooves instead of toes?
Hint: Over 60 million years ago horses lived in the rain forest.
They were adapted to hunting wild animals.
They were adapted to walking on the forest floor, which was soft.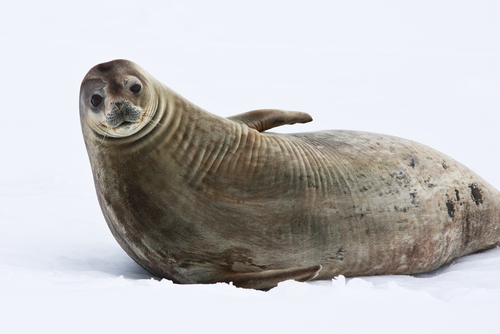 Seals are good swimmers, because they are adapted to swimming in the sea. If a whale chases a group of seals, what will most probably happen? Two options are correct.
the faster seals will escape
the slower seals may be eaten
swimming slowly helps seals to survive
the fast seals will be eaten
We have seen so far that organisms must be adapted to their environment in order to survive. However, environments do change. If an organism is to survive, it needs to adapt to the changing environment. In any species, only the fittest individuals survive. This is called natural selection.
The fittest survivors have characteristics best suited to their environment. Because they survive, they reproduce and pass their characteristics to the next generation through genes (DNA). If they needed to change to adapt better, over time, many changes could lead to a new species.
This is the theory of evolution according to Charles Darwin. What did Darwin take into account when developing his theory? Three statements are correct.
There is variation within a species.
All offspring of an organism survive.
Individuals compete for limited resources, for example food or shelter.
If a species does not evolve to adapt to changing conditions it will become extinct.
According to Jean Baptiste de Lamarck, organisms acquire characteristics throughout their lifetime and then pass them on to their offspring. For example, if a giraffe has to reach leaves on high branches, it stretches its neck and passes on this characteristics to its young.
This theory is not correct, explain why.
A giraffe's neck can stretch during its lifetime.
A long neck would be coded for by a gene and it would pass to the young through DNA.
All giraffes have long necks.
Look at the picture of the peppered moth against lichen that grows on a tree bark. There are also dark moths, which would not be as well camouflaged as the one in the picture. Dark moths camouflage better on tree barks. The lichen that grows on trees in the countryside does not survive in polluted cities.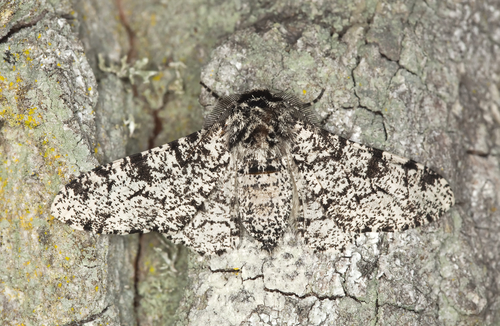 Where is it most likely to find dark moths?
Have you heard of superbugs? They are microbes that are not killed by antibiotics. They have developed resistance against the antibiotics.
Complete the sentence below by typing the missing word in the box.
Antibiotic resistance is an example of modern day ________________.