Our body needs to maintain a steady internal environment through a regulation process called homeostasis. Homeostasis takes place all the time and regulates levels of oxygen, water, carbon dioxide, glucose and the body's temperature. Have you ever noticed how worried people get when someone has high temperature? This is because, if body temperature exceeds the normal 37°C, especially when it gets above 40°, there is a real danger we may die.
Sweating is a way our body uses to cool down. Also, when we are hot, more blood flows near the surface of the skin to help it lose heat. Hypothermia is when the body temperature drops a lot below the normal one. In the news, we sometimes hear about people who have been trapped or lost in cold, snowy mountains and have died of hypothermia. When we are cold, our body shivers to create a bit of heat.
Hormones are special chemicals produced in glands that help the body regulate different processes. Diabetes, for example, is a condition where the body does not produce enough of the hormone insulin and, therefore, cannot regulate glucose levels in the blood. Diabetics have to inject themselves with insulin.
The body also produces sex hormones, which regulate changes during puberty, the menstrual cycle (in girls and women) and reproduction. Ovaries in females produce oestrogen and progesterone, whereas testes in males produce testosterone.
Hormones also regulate various processes in plants, like growth of shoots, roots and flowers and ripening of fruit. The most important hormone in plants is auxin.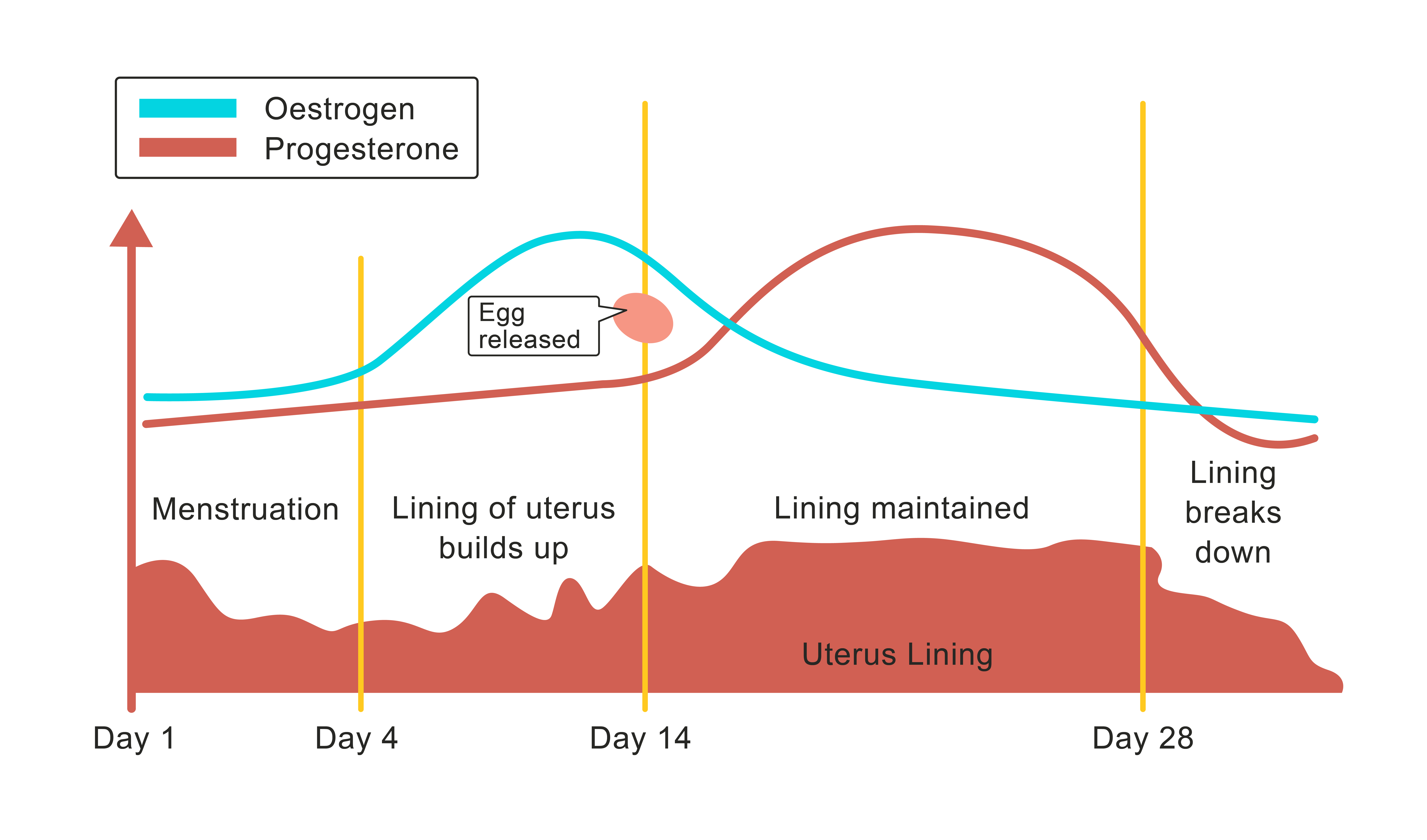 The graph shows how the levels of the female sex hormones change during the menstrual cycle. Tick two statements that describe correctly what the graph shows.
If the egg is not fertilised, progesterone levels decrease and the lining of the uterus breaks down.
Ovulation happens on day 4.
After an egg is released the lining of the uterus becomes thicker in case the egg is fertilised.
Women bleed when the thickness of the lining is maintained.
A plant hormone is made in the tip of a shoot. The hormone moves towards and collects in the shady side a shoot. It causes the cells there to elongate (grow longer) more than the cells on the light side. This causes the plant shoots to move towards the light. What is the name of the hormone?