The alphabet contains 26 letters, but how many words can you think of... thousands, hundreds of thousands, millions? Combining the letters of the alphabet allows us to create lots and lots of words.
This is similar to chemistry. The Periodic Table is composed of over a hundred elements and when these elements combine they form compounds. This means that there are billions of possible compounds in existence.
A compound is made of two or more elements chemically joined together.
Elements can combine during chemical reactions to form new compounds. For example: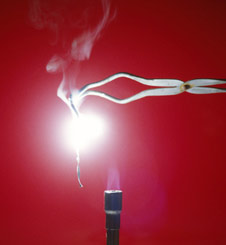 | | | | | |
| --- | --- | --- | --- | --- |
| Magnesium | + | Oxygen | | Magnesium Oxide |
| ELEMENT | | ELEMENT | | COMPOUND |
Compounds are usually completely different from the elements that formed them.
Magnesium is a shiny, silver, highly flammable metal.
Oxygen is a colourless gas.
Magnesium oxide, however, is a white powder.
A molecule is formed when a small group of atoms are joined together.
These atoms may all be the same, such as in hydrogen (H2) which is a molecule of an element, or different, such as water (H2O) which is a molecule of a compound.
| | |
| --- | --- |
| | |
| Hydrogen Molecule | Water Module |
Want a bit more help with this before you begin? Why not watch this short video?