What are the National Curriculum levels?
If you have school-aged children you have probably received end of year reports giving their National Curriculum levels, but you may not be sure what these levels signify. What does it mean if a child is Level 3A in maths? Is it better or worse than 3C? Why is your child at one level for reading but at a different level for writing? For people not directly involved in the education system, the National Curriculum levels can seem very confusing. This guide aims to explain what the levels are and how they relate to an individual child's progress.
National Curriculum levels are used to compare a child's ability against national standards of achievement. They are used in Key Stages 1, 2 and 3 for English, maths and science. Each level is divided into three sub-levels, with A at the top end and C at the lower end, so Level 1C is the lowest and Level 8A the highest.
On average, it takes a child two years to progress through each level, and government expectations are for children to reach the levels shown in the table below:
| | |
| --- | --- |
| Year 2 (age 7) | Level 2 |
| Year 4 (age 9) | Level 3 |
| Year 6 (age 11) | Level 4 |
| Year 9 (age 14) | Level 5 or 6 |
The levels are a statement of a child's achievement across all aspects of a subject. For example, to achieve a particular level in writing, a child must demonstrate ability in grammar, spelling and punctuation as well as creative writing.
How are the levels determined?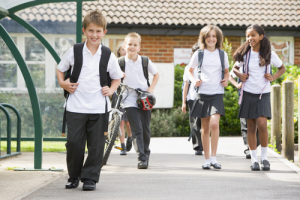 National Curriculum levels are determined by a mixture of testing and teacher assessment. In state primary schools children take Standard Assessment Tests (SATs) in English and maths at the end of Years 2 and 6. Pupils used to sit SATs in science, too, but their achievement in this subject is now assessed by the class teacher. Primary schools are required to inform parents of their child's National Curriculum levels in reading, writing, maths and science at the end of Years 2 and 6. Many schools also carry out optional SATs at the end of Years 3, 4 and 5 and may put these grades on their pupils' end of year reports; however, this is not compulsory.
In Key Stage 3, pupils sit SATs in English, maths and science at the end of Year 9, and levels are reported to parents. Again, a number of schools sit optional SATs in years 7 and 8 and may report these levels to parents.
What are the implications of the levels for an individual child?
While the table above shows average achievement by pupils, it is not uncommon for a child to be working at Level 5 at the end of primary school and a small number of children even achieve Level 6. Again, by the end of Year 9, some children are working at Level 7 with a few achieving Level 8.
On the other hand, your child may leave primary school below Level 4 and may never reach Level 6, let alone Levels 7 or 8, but this should not imply that he or she has underachieved. Every child is different, and it is important not to worry too much about how your child compares with others. What matters for children is that they are progressing as well as they can, and for a child who has struggled to read for years, reaching Level 3C in Year 6 could be a major achievement.
It is important to remember that children are not machines, and will not progress at a uniform rate. It is quite common for a child to appear to 'plateau' for a while and then suddenly go up a level; this should not be a cause for concern.
Children have different strengths and weaknesses, and are often working at one level in one subject and at another level in a different subject. In English there are separate levels for reading and writing, and it is common for children to be working at a higher level in reading than writing.
All this may still seem very confusing, and if you are concerned about the implications of the National Curriculum levels, or that your child is not working at the level you would expect, then the best thing to do is to talk to the school. It could be that your child would benefit from extra support, but it could equally be the case that he or she is already achieving as well as possible and there is nothing to worry about.
By Sue Davison