* Article is written by EdPlace's teacher, Miss Latham *
Content
English has been split into two distinct and separate GCSEs; English Language and English Literature. No longer is there a GCSE that mixes the two. Coursework does not count at all towards the final mark any more. All students will sit the same exam, and unlike the new maths GCSE, there will be no tiering.
The two English Language exams will be split into a reading section and a writing section. They will focus on texts from the 19th, 20th and 21st century and will require students to read and respond to unknown texts confidently and quickly, displaying their skills of deduction and inference. Students will need to be able to explain their thoughts and ideas accurately under timed conditions.
The writing sections may ask students to write pieces linked to the texts they have been given, for example a descriptive narrative for one paper and presentation of a viewpoint for the second.
The two English Literature exams may focus on Shakespeare or a 19th century novel, and students will have to answer an unseen poetry question, possibly followed by a modern text. Students will have to understand the contexts of the texts and use their skills in deduction and inference, they will then write about what they have read.

See our revision and exam practice papers here.
Exams
The final grades for each subject will be assessed through exam only, no coursework at all! There are two exams for literature and two for language. Students will also have to complete a spoken language assessment (this used to be called speaking and listening), this will not have any bearing on their final grades, but they will be graded for it; pass, merit, distinction or fail. If they don't complete it, their English Language GCSE will be void. Spelling, punctuation and grammar will count towards 20% of each of the English GCSEs.
Grading
From 2017 GCSE grades in English will now be from 9 to 1 instead of A* to G. Grade 9 will be reserved for the very highest achievers. A good pass is 5 or above. Ofqual the exam regulators are estimating that the same proportion of students will achieve a grade 4 and above as currently achieve a grade C and above.
Similarly, the same proportion of students achieving an A grade or higher will achieve a grade 7 or higher.
The bottom of grade 1 will be aligned with the bottom of grade G.
Grade 5 will be in the top third of the marks for a current Grade C and bottom third of the marks for a current Grade B.
How can you support?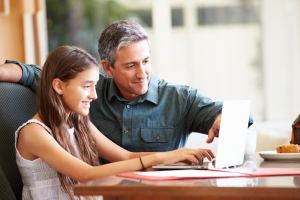 English can often feel more subjective than maths. Students may worry that they will not know the 'right' answers. Of course at school, students will focus on preparation for the new English GCSEs, but what can you do as a parent to support? Luckily you have come to the right place! We at EdPlace have years of experience in exam preparation and we are only too happy to help. We can point you in the right direction for texts to read, questions to ask and writing to practice. As with most things, practice makes perfect and the more exposure your child has to a wide range of texts, the more prepared they will be.
Reading. Higher expectations mean that students will be given a wider range of harder texts to study. Reading with your child at home and taking time to really understand and discuss the texts could help and support them hugely. Consider any new language, infer and deduce meaning and critically analyse the content. Examiners will be looking for students to be able to perceive tonal effects like innuendo, humour, exaggeration or irony. They will want students to recognise the layered effects of figurative language or to speculate about the writers intentions. It is about reading texts that may not at first be easy, and developing the tools to not only understand them but perhaps to enjoy them too.
Writing. Setting writing tasks utilising a range of genre's or linked to the texts you are reading will support your child in preparation for the exam. Working through their ideas with them and then editing their writing with them, reminding them of spellings, grammar or punctuation, so that they can start to see where they have made errors and start to self-correct, will boost their confidence and their abilities to get their ideas down onto paper quickly and efficiently. At EdPlace we can provide you with plenty of ideas and support.
Written by Miss Latham - EdPlace's teacher