One of our students, Kirisinika shared her winter adventure with EdPlace. Read her essay below with the comments of our English teacher. Well done Kirisinika and keep up the great work! 
My name is Kirisinika. I am 7 years old. I, my brother, my mum and dad live in Harrow. Now I'm going to tell you about my big and best adventure to Bognor Regis.
On the 23rd of December 2016 I and my family went to Bognor Regis. It is in the South of London and 2 hours and 40 minutes away from Harrow. Once we reached Butlin's we stayed in a huge building called Wave.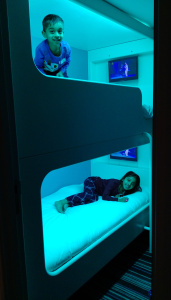 Wave is a hotel and apartment. We were on the 2nd floor. When I went into mine and my brothers bedroom I got really  shocked because there was one bunk bed  for each of us . I slept on the bottom bunk and my brother slept on the top bunk. On each bunk there was one TV and every morning and night we always watch Cbeebies because I really don't want to miss out the programs.
Moving on my mum and dad slept on a double bed. The difference is between me and my parents' bedroom is that they have one TV. The same is that we both have one mirror.
We went to lots of shows. On the 23rd we went to a magic show. The magic show took place on the Centre stage, there was so many people that came to the show. Also the magician did so many cool magic. I felt in amazement when I first saw the first magic. I felt like I am in a palace right now.
On the 24th we went to Skyline Pavilion. In the Skyline Pavilion there was a company called wax hand. The wax hand was totally amazing. When I was standing in the line I thought it would be awesome if my family did one too. When the wax hand was finished it looked fabulous and I really felt in a shock.
I and my family went to see Santa in Jak's place. I love going to Jak's place it was nice. Not least Santa gave me and my brother a present. After we got the present and took a family photo with the Santa, Santa told us to go from the cupboard where there were Santa's pyjamas. I couldn't wait to open my present so I opened my present and there was a game.
In the afternoon I watched the Skyline gang Christmas show. It was totally amazing. Not least my favourite part of the show is when Santa came at the end of the Skyline gang show. My best friend is Candi because she was amazing and the rest of them were good to.
Evening we had pizza.I had pepperoni on it was amazing it was the best pizza I ever had. When I ate the pepperoni it was very spicy, spicy as hot source.
At night we went to a dance party and it was a disco for kids I got very tired after I danced. My favourite song was Macrena. It was so much fun dancing to my favourite song because, I like it.
Finally we got to see beautiful fireworks. I felt shocked when I saw the first one because it was more than amazing. At the end it was very cool. Cooler than a rock star and after the fireworks were finished we went back to the Wave hotel.
Before we went to bed we put some sprinkles for Rudolph to eat because after giving out presents Rudolph might be very hungry because they might not have eaten since they started to give out presents.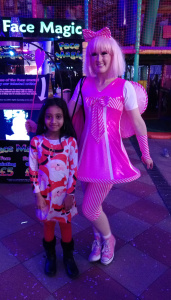 On the 25th it was Christmas day and my presents were at home. After breakfast we went to Skyline Pavilion. In the Skyline Pavilion many things were Christmassy. I got really excited to go on all the rides. So I asked my mum which ride can, I go on first. My mum said we are going straight to lunch.            
So we went to lunch and for starters we had bread with butter and vegetables. For food we had vegetables, sausages and Turkey. After I finished my lunch I opened my Christmas cracker. Inside my crackers there was so many jokes, a toy and a paper crown. For dessert we had ice cream. My flavour was chocolate .It tasted so good .Good as pizza .Not least it was cold as a fridge.
After that we went to Skyline Pavilion again and we watched Mike the Knight. It was so amazing. We had so much fun stomping while Mike was playing a trumpet. One thing Mike didn't use his mouth to blow. Well he touched it with his hands and still he played a wonderful tune .The characters were Mike the Knight, Deck, Mike's friend and a girl. They taught all the things that Knight's do.
Next we went to see the Skyline gang Rumble in the jungle. This is the best show because Misty the meany got locked in the cave. That was funny because she wanted a wanted a blue gorilla and the blue gorilla got kidnapped .The gorilla kidnapped Misty and put her into a cave and the gorilla escaped.
In the evening we went to see the red coat show. The red coat show was amazing and my favourite was Macarena. It also had my favourite moves in the song to. It felt so fabulous when I danced.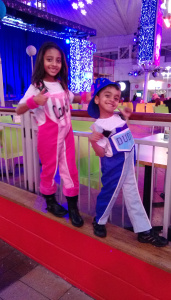 The next day was 26th it was Boxing Day. After breakfast we went to Skyline Pavilion. My family and I wanted to take a photo in the globe. In the globe there was paper snow and what we had to do was that we had to kick the paper snow and then they will take a photo when the snow comes down. On the photo it looks amazing. Amazing like magic.
For lunch we went to an Indian restaurant. We had biryani, yogurt and chicken. Wow the biryani was so good. I loved the biryani. It took me a long time to eat because I loved it so much.  It was the best lunch I ever had in my whole entire life. The lunch smelled as good as gold. It tasted so amazing. Amazing than an ice cream. My family loved it to and I couldn't even stop eating.
Next we watched a movie with headphones. So there is a screen and the voice comes in the headphones. It was a very interesting movie. It's all about a girl losing her ticket. This was the best movie I ever watched. Not least the name of the movie is called Festive night.
Finally we went to splash water world because there was a pool party going on. We had so much fun. In the pool there were balls, guitar and more other pool toys. They also had music with it. It was the best swimming I ever did. After swimming we went back to our hotel and finally we went to sleep in peace.
Finally I woke up and got my breakfast. Then I got my suitcase and I put all my clothes back in the suitcase and we were off home. We went to the hotel reception to give the card. Finally we got into the car and we got back home in the afternoon.
---
Dear Kirisinika,

You have written a very detailed description of you Christmas adventure and I can really imagine being there with you! I was particularly impressed with your structure; you wrote in chronological order and used a range of connectives and paragraphs to help structure your recount.

An area you may wish to develop is your description. Can you try to add in some more adjectives and maybe even the five senses or a simile? I would love to read another one of your adventures with lots of description in. Keep up the great work, well done!


Ms Brown - EdPlace's English teacher