It's time to be a puzzle perfecter!
In these questions, we have been given a grid and we need to work out the missing puzzle piece.
Grids can follow a pattern which goes across.
To find the missing puzzle piece, we first need to think about what the pattern might be.
Here are some example patterns and how they change in the grid:
| | |
| --- | --- |
| Pattern | Example Grid |
| Shading gets lighter or darker. | |
| Size of shapes gets bigger/smaller. | |
| The shape turns. | |
Take a look at this example: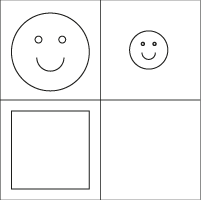 Which of the following images would complete the missing box in the grid?
a)

b)

c)

The pattern in this case is that the shapes get slightly smaller each time.
So the answer must be option b!
It's now your turn to find the missing puzzle piece in grids.
Remember to work out what the pattern is in the top two squares, before applying it to the bottom two squares.
Good luck puzzle champ!