Prepare to be a 2D shape builder!
Look at the shapes below: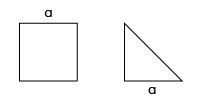 In this question type, we need to join these two shapes together to make a new shape.
Matching letters have to touch, so, in this example, both the sides labelled a have to be touching each other.
Which of the following options would the new shape look like?
a)

b)

c)

Did you choose option a?
If so, then you are correct!
The triangle lifts to go on top of the square.
Try and imagine the shapes moving together in your head.
Let's try another one!
This time we have three shapes to join together.
Remember that matching letters must touch each other.

Here are the possible options:
a)

b)

c)

The correct answer is c.
The triangle goes on the right side of the rectangle, and the trapezium goes on top of the rectangle.
Pssstt!!

Here's a handy hint to help you reach superstar status: remember to join the shapes first and then try to rotate your new shape to match one of the options.