In this activity, we will learn how to calculate the value of the discount a shop is offering on different items.
You may well be used to finding simple percentages by finding 10% first.
For example, to find 40% of £72, you first find 10% which is 7.2.
40% will be 7.2 x 4 = 28.8
So 40% of £72 = £28.80
Sometimes you might need to find a more complicated percentage such as 63%. It is therefore important to know a different method which can be used to find any percentage and this is the method shown below.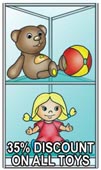 This shop is offering a 35% discount on all its prices.
For Example:
The discount on £701 is 35% of £701. This is how we write this:

The discount on £546 is

You can use your calculator in this worksheet to help you find the answers.