What is a negative indices? A number or term with a negative index means it can be written as a reciprocal of that number.
For example,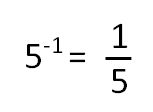 And: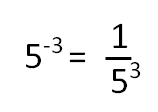 How do we get negative indices?
Negative indices occur when multiplying or dividing two terms where the the result of adding or subtracting the powers gives a negative value.
For example,
a3 × a-5 = a3 + - 5 = a-2 = 1/a2
or
p1 ÷ p2 = p1-2 = p-1= 1/p