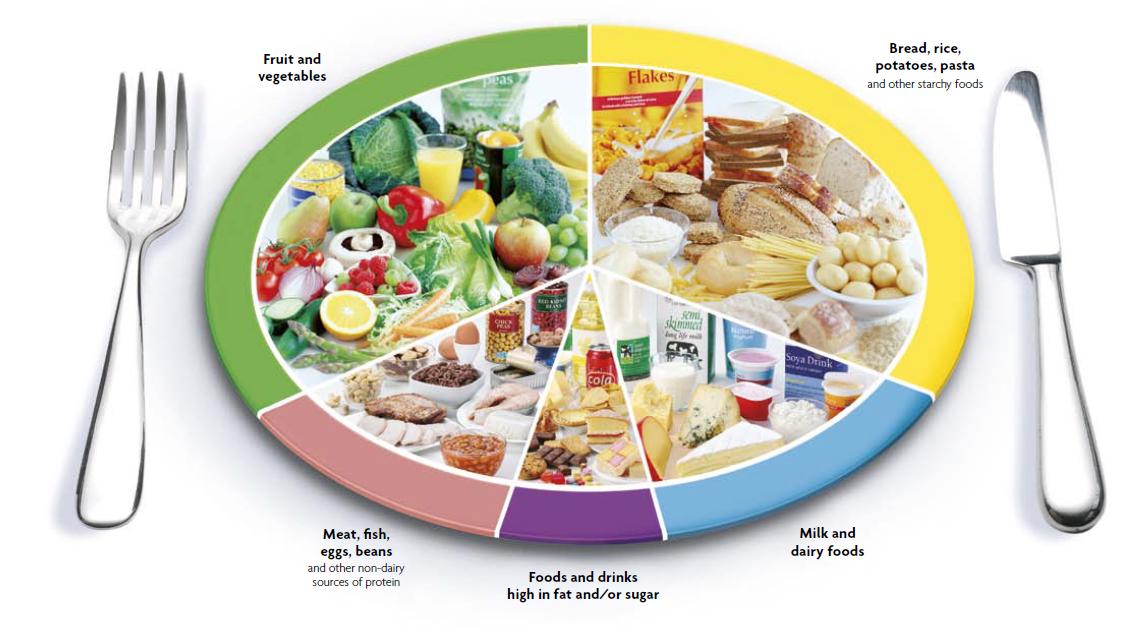 A balanced diet is essential in keeping us healthy and providing our bodies with all the things that it needs in order to function properly. The foods that we eat contain a mix of seven nutrients that are used in our bodies for different things.
1. Fats (found in butter and oils etc...)

Fats are needed in the body to provide energy. They are also used to provide insulation to keep the body warm.
2. Proteins (found in meat, fish and eggs)

Proteins are needed in the body for growth and repair. Muscles, bones, hair, nails and blood all need proteins to keep them strong and healthy.
3. Carbohydrates (found in bread, pasta, cereals, and potatoes)


Carbohydrates are needed in the body to provide energy.
4. Vitamins (found in dairy products, fruit and vegetables)

Vitamins are needed in small amounts to keep our bodies functioning properly e.g. vitamin D is needed for healthy teeth and bones, and vitamin C is needed for healthy skin and hair.
5. Minerals (found in milk, liver, and salt)

Minerals are needed for a variety of bodily functions. Some important minerals are iron, a major component of blood, and calcium, needed for healthy teeth and bones.
6. Fibre (found in bran)

Fibre is needed to keep the gut healthy and to prevent constipation.
7. Water

Approximately 70% of the human body is made up of water. However this water can be lost through sweating and breathing, so we need to keep topping it up.
What happens if we do not have a balanced diet?
If our diet lacks any of these seven nutrients it can cause a variety of health problems to arise, including:
Anaemia - a condition caused by a lack of the mineral iron in the body.
Scurvy - a disease caused by a lack of vitamin C in the body.
If the body becomes fat-deficient, it can stop absorbing certain vitamins, causing tiredness and poor health.
Let's have a go at the questions now to find out what we know about a healthy diet.