Virtually everything we eat can be traced back to plants. Either we eat food from plants or we eat food from animals, that in turn have eaten plants. How do plants get their food then? Let's find out the answer to this question below.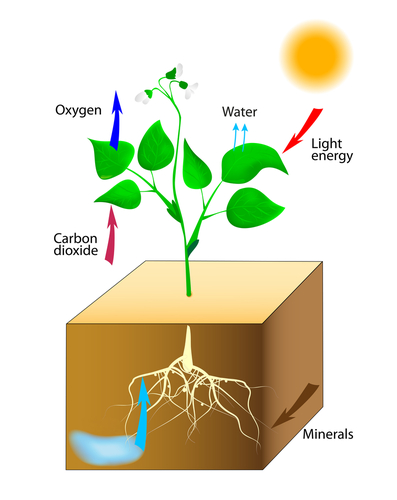 Plants use sunlight to make their own food, this process is called photosynthesis. Plants have a special green pigment called chlorophyll that traps sunlight. The chlorophyll is found in a structure called chloroplast which is found in plant cells; these are mainly found in the leaf.
Photosynthesis is an endothermic reaction because light energy is absorbed by the plant to power photosynthesis. Enzymes speed up this process, without enzymes the reactions in photosynthesis would happen really slowly. Water and carbon dioxide are also essential for photosynthesis; water is absorbed by root hair cells in the plant's roots. Carbon dioxide is present in the atmosphere and enters the leaf of a plant through small pores called stomata (or stoma when we're talking about just one).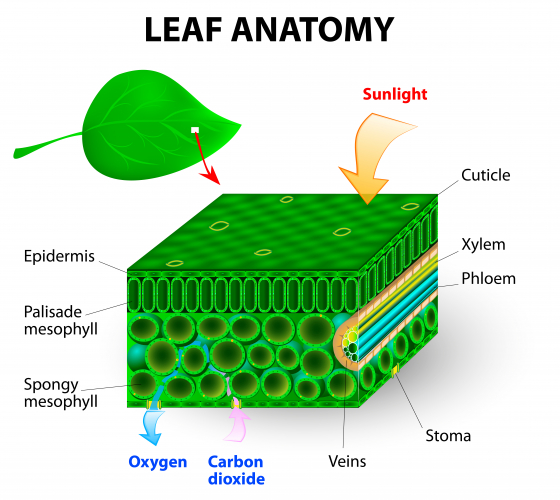 Photosynthesis can be broken up into two main stages:
First Stage: Light energy is used to split water into oxygen gas and hydrogen. The oxygen is released into the atmosphere.
Second Stage: The hydrogen is combined with the carbon dioxide taken in from the atmosphere to make glucose.
The table below summarises the inputs (what is taken in) and outputs (what is released or produced) from each stage of photosynthesis:
Stage of Photosynthesis
Input
Output

First Stage

Light

Chlorophyll (structure)

Water

Oxygen

Hydrogen

Second Stage

Hydrogen

Carbon Dioxide

Glucose
The glucose made by photosynthesis is used for many processes:
-Provides energy for respiration
-To make cellulose, the main structural material in cell walls
-Used to turn sugars, nitrates & other nutrients into amino acids which build up proteins
-Stored as starch (in leaves, seeds, roots and tubers)
-Used to make fats & oils (energy stored in seeds)
In the following activity, you will describe the process of photosynthesis.