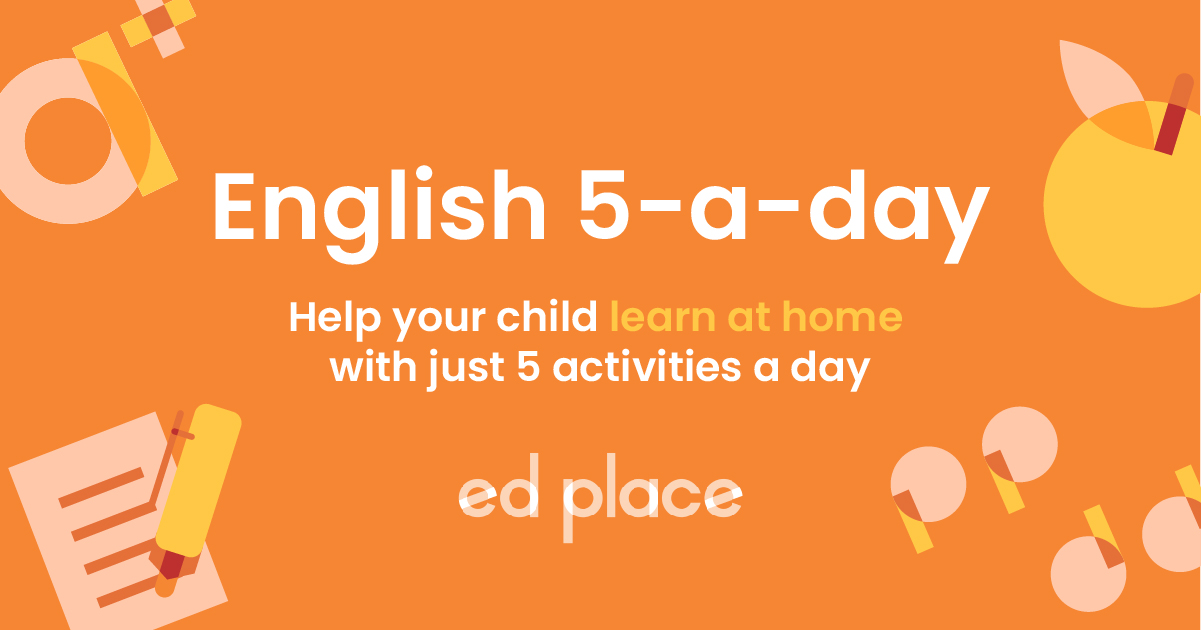 EdPlace's GCSE home learning English Literature lesson: Context of Plays and Novels
Looking for short lessons to keep your child engaged and learning? Our experienced team of teachers have created English, maths and science lessons for the home, so your child can learn no matter where they are. And, as all activities are self-marked, you really can encourage your child to be an independent learner.
Get them started on the lesson below and then jump into our teacher-created activities to practice what they've learnt. We've recommended five to ensure they feel secure in their knowledge - 5-a-day helps keeps the learning loss at bay (or so we think!).
Are they keen to start practising straight away? Head to the bottom of the page to find the activities.
Now...onto the lesson!
'To be or not to be – is that the question?'
How is thou art to fathom the language of Shakespeare? How the Dickens do you understand the complications of Victorian England's society?
What inspiration is behind the thoughts and ideas of a poet? All valid questions! It may have been a while since you picked up a copy of 'Macbeth' and had to think about the historical context of our literary canon on the school curriculum.
So, let's break this down, and work out the sorts of additional information your child should be familiar with when tackling the 'context' question in English Literature.
Step 1: Shakespeare
No-one knows the actual birthday of William Shakespeare, but we know he was baptised in April 1564. Some scholars think that he was actually born on St George's Day 23rd April. He died on the same date – 23rd April St George's Day – 52 years later. A key idea when looking at the context of a text is to find out what was going on at the time he was writing as this would definitely have influenced his works.
Although Shakespeare lived during the Elizabethan times (when Queen Elizabeth I was on the throne) she died during his lifetime and Shakespeare actually produced more plays during the Jacobean period when King James was the reigning monarch (who wasn't very popular!). He was also King of Scotland (hence the Scottish setting of Macbeth).
Shakespeare's most famous play, 'Macbeth' was written a year after the Gunpowder Plot attempt. The culprits involved were hung, drawn and quartered (a pretty gruesome punishment) Their body parts were then sent to the four countries in Great Britain, and their heads were impaled on stakes to serve as a warning to others! In the play, Macbeth and his famous wife, Lady Macbeth, commit regicide (killing the monarch.) Their fatal demise is sealed as soon as this happens which would have served as a warning from Shakespeare to the Jacobean audience at the time.
TOP TIP: Aim to write your response with the view of 'Shakespeare's methods' and 'the Jacobean audience's reaction' as a result. The audience at the time would have been a lot more shocked at the content than a modern audience. They were very religious, believed in Heaven and Hell and accepted the existence of the supernatural. Remember that punishment was an awful lot harsher in their era if they committed serious crimes, especially against the monarchy.
Step 2: The 19th Century Novel
It's always useful to do a little 'digging' into the background of the author which will give a little insight into their motives for writing. For example, Charles Dickens grew up in a large and very poor family and he had to work long hours as a young boy to help support his family. Dickens includes the theme of 'poverty' and the 'social class divide' in his novels which should help with your understanding of the underlying messages in 'A Christmas Carol' and 'Great Expectations.'
The 'evolution of science' is another theme which is key in other texts such as 'Frankenstein' and 'Jekyll and Hyde.' This was an era where science was evolving quickly which raised issues with morality and the conflict between scientists and the church. Not only that, but there was a fear that creating a monster out of body parts was possible! We know much better these days…or do we..?
Other considerations:
Female writers (an unusual and new concept) in the 19th century developed strong female characters in their novels which challenged the social stereotype of a woman's role in society.

The British Empire was expanding and the new 'exotic' lands were thought of as fascinating but also a bit frightening.

The 'supernatural' and 'crime' were popular genres in Victorian England which links to several of the texts. Always remember – they were written for and read by a Victorian audience first.
Step 3: Modern Prose and Poetry.
Similar advice applies when trying to understand the context of your child's third literature text and their poetry anthology. Try to think about:
When it was written – historical context of the era.

The author/poet – what's their background?

Geographical information – where is it set? Why is it set there?

For poetry – which other poems in the collection have a similar theme?

Try to make sure you know the main themes of the novel and have a good idea about the characters as exam questions for this text will be based on themes/characters – not an extract question like Shakespeare and the19th century novel.
It's a good idea to make sure you research the background for each text to help you understand the writer's viewpoint. Try to remember, all the characters/storylines are fictional but used by the writer to get across contextual issues.
Step 4: Having a go…
Quick questions:
1. Roughly, how long ago did Shakespeare write his plays?
2. List some social issues in Victorian England that affected the author's viewpoint.
3. Why is it important to understand the contextual information of a text?
4. How many exam papers are included in the English Literature exam?
5. How many texts and poetry collections are included in the English Literature GCSE
Step 5: Activities
Here are some great activities to practise your skills.
All activities are created by teachers and automatically marked. Plus, with an EdPlace subscription, we can automatically progress your child at a level that's right for them. Sending you progress reports along the way so you can track and measure progress, together - brilliant!
Activity 1 - Reading Shakespeare: An Introduction to Romeo and Juliet.
Activity 2 - Reading Shakespeare: Macbeth (The Plot)
Activity 3 - Overview of Context in 'A Christmas Carol.'
Activity 4 - Overview of Context for 'An Inspector Calls'
Activity 5 - Compare Content in 'London' and Other Poems.
Answers:
1. Just over 400 years ago. (no wonder the language is tricky!)
2. Poverty, the social class divide, evolution of science/religious clash, the British Empire expansion, female authors increase in popularity and an increased interest in the supernatural and crime fiction.
3. It helps us understand the main themes/ideas/writer's viewpoint in the text.
4. 2
5. A Shakespeare play, a 19th-century novel, a modern prose text, a collection of themed poems and a knowledge of unseen poetry!
Keep going! Looking for more activities, different subjects or year groups?
Click the button below to view the EdPlace English, maths, science and 11+ activity library