9 maths games perfect for Home Educators
Maths is everywhere, you can't escape it, and this is one of the real beauties of homeschooling your children; you really don't have far to look for inspiration when it comes to teaching numeracy skills. If you haven't already, you might want to check out our article on fun places you can find maths in everyday life, without having to sit down with graph paper and pencil.
If you're searching for even more ways to embed maths into a fun homeschooling life, then look no further, you've come to the right place! The teachers here at EdPlace have been rummaging through their games cupboards and we've compiled a list of some great games which will give your child some hands-on maths practice without them even knowing!
You can use games and activities, like the ones we've listed below, to supplement your child's day-to-day numeracy learning. We've got a wide range of interactive maths worksheets, all tailored to the National Curriculum, playing a maths-based game might be a great way to not only unwind after a learning session, but also to consolidate some of the skills you might have been working on with your child. Can't say fairer than that!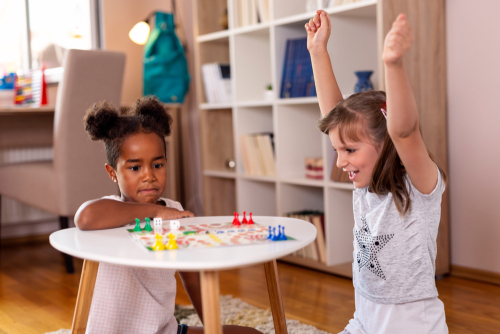 Games for practising number, counting & calculations
The buck stops with Orchard Toys when it comes to educational games for little people. These vibrant and fun learning games include titles such as Dinosaur Race, which is aimed at KS1 pupils, is a brilliant opportunity for young children to practice counting in a number of different contexts throughout the game. A game like Dinosaur Race is the perfect way to consolidate to your child's counting practice!
The dice game to end all dice games. This game is brilliant for the whole family, even younger kids can join in and help by counting the dots on the dice face. Yahtzee is deceptively simple, and is great for counting in different ways as well as practicing your adding and multiplication skills too. What's not to love?
This deceptively simple game has been entertaining families for years and can even be bought in giant inflatable size to play in the garden! Simply throw the pigs and the different positions they land in earn the thrower a certain number of points. It's a great little exercise in addition of smaller numbers and some quick-fire mental maths practice. You could always add your own family rules if you want to include some more complicated mental calculations.
Timeline is a brilliant game for the history-lovers amongst us. The aim of the game is to place random historical events in the correct timeline order. You can either play with the dates visible, for the younger players, or have the dates hidden. Either way, it's a brilliant practice for ordering numbers, sequencing and for younger children it's great practice at reading and handling larger 4-digit numbers.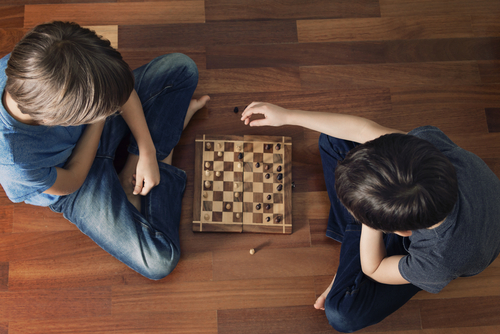 Games for practising money
There's not a huge amount that needs to be said about Monopoly! It's quite possibly the definitive money-based game and it great fun to boot. Players need to count out their own money, manage their income and outgoings as well as working out charges and change. What's not to love? Just don't blame us for any resulting family arguments, we're happy to go on record to back up the official rulebook!
This is another great opportunity for children to practice handling money, including some quick-thinking mental maths problems such as how much change to give. Children love being able to drive their little cars through life and picking names for their little figures, so much so they often don't even notice they're practicing their maths at the same time! Younger children can be charged with reading the numbers on the spinner and counting the number of spaces each player needs to move. Fun for all ages!
Get your child some practice in managing money and budgeting whilst still having fun! Pay Day has been a hugely popular go-to game for years, with players charged with making their money stretch through various challenges and make it all the way to the next pay day opportunity without going bankrupt!
Games using shape, symmetry or patterns
This incredibly simple game will none the less get brains whirring! It's a brilliant way to develop crucial problem solving skills as one player tries to crack the colour code hidden by their opponent. It's a super opportunity for your child to develop systematic approaches to problem solving which will serve them well across all areas of their life.
Simple, yet effective! What child doesn't love a rousing game of Snap? Why not get your KS1 child working hard on their instant recall colours and shapes with this easy and quick Snap set? If you're done with playing, you can always use these cards time and again as flash cards and shape resources for your maths teaching.
Another classic that's brilliant at getting younger children practising their quick-fire counting and number matching skills. You could also challenge your older student to create their own dominoes set using more complex calculations and answers on their tiles instead of just numbers. The only limit to the level of challenge is their own ambition!
Qwirkle is a bit like Scrabble or Bananagrams, only it uses shapes and colours instead of letters. It's a brilliant opportunity to get your child thinking spatially and get that right side of their brains working. Bonus points for Qwirkle for also having opportunities for your child to add, count or tally as well!
Chess
The ultimate strategy game, which also gets your child thinking about direction and space as well. Once they've cracked how each playing piece can move, they've got to keep an eye on how many squares and what directions they are able to move in. The knight is a particularly good piece to really get those spatial skills flexing. Chess is brilliant for children as you can get playing pieces in just about any variety you might like, from Harry Potter to the Simpsons!
We're not entirely sure how it took us so long to mention Battleships because, quite honestly, there's no greater game for practising coordinates! It's super competitive and sinisterly fun. It's a brilliant way to really drum in the "along the corridor and up the stairs" adage, without having to say it over and over again until you're blue in the face. So why not round off your coordinates lessons, whether it's at primary or secondary level, by taking to the high seas and attempting to sink your opponents attacking fleet!
How can EdPlace help home educators?
EdPlace is here to help you on your homeschooling journey - from your first lesson plan through to exam preparation and advice, we have all the tools you need to help your child progress through KS1 - GCSE in English, maths and science.
All activities are fully comprehensive and National Curriculum aligned

1000s of English, maths and science activities, assessments and revision materials

Activities range between 10-15 minutes to keep students engaged and productive

Personalised rewards help motivate learners of all ages
Try up to 10 of our worksheets for FREE:
Test an English worksheet Test a maths worksheet Test a science worksheet