20 FUN FINE MOTOR GAMES
(Using household items or children's craft accessories you may already have!)
What you'll need:
Wooden pegs or clothes
Coloured paper
Water
A4 paper
Paper clips
Glue
Pipe cleaners
Junk flyers, leaflets
Coloured pens
Buttons
Playdough
Plastic cutlery
Snack or sweet tube
Kitchen tongs
Plastic/paper cups
Pasta shapes with holes
Craft pom poms
Cupcake baking tray
Pebbles
Plastic tweezers
Sticker books
Thread or string
Hole punch
Saucers/bowls
Scissors
Storage box
Tiddlywinks
Ruler
Googly eyes
Dot to dot sheets
Paintbrushes
Poster paint
Colouring books
Bricks for building and stacking
Rubber bands
Beads
Pencils of different thicknesses and colours
Fine motor skills are just as important when we play and work with our children as gross motor skills are. These skills are used by all of us; however, children with Dyspraxia, Dysgraphia and hypermobility issues will all need regular practice with these skills to be able to write, build, dress and hold everyday items more easily.
Here EdPlace SENDco, Ms Jackie suggests 20 fun games to practise finger movements, grip, squeeze, stretch and control, helping the brain and muscles coordinate better. Skills practice with a fun twist - Great!
1. Collecting with kitchen tongs
How many toys, building bricks or beads can you pick up and put away using only a pair of kitchen tongs?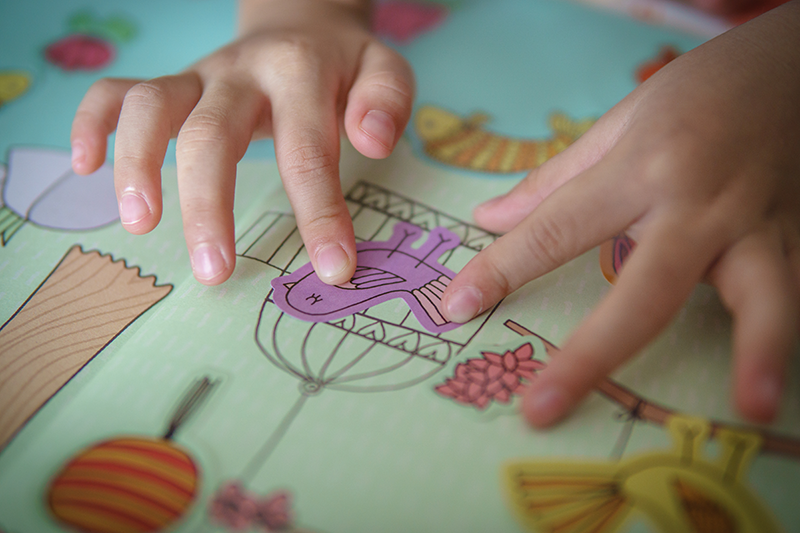 2. Get stuck into sticker books
Inexpensive sticker books from bargain shops and websites are a perfect way of practising fine finger movements for peeling off and sticking down stickers of different sizes.
3. Buttons in a cupcake tin
Take a bowl of 30 assorted buttons - how long does it take to sort the buttons into the holes in a cake tin? Sort according to size, shape or colour to vary the game each time and see if they can beat their own time when they next have a go.
4. Water painting
This one works best on a sunny day outside where there's space to use different sized paintbrushes to paint water pictures on the patio, garden path or fence.
5. Scrunch the junk
Make good use of all those junk leaflets that come through the letterbox. Scrunching these into balls of different sizes and then aiming them into a wastepaper basket or washing up bowl, perhaps scoring each time you get them in, makes a useful game!
6. Mushy monsters
Rolling playdough into monster bodies and decorating these with googly eyes, pipe cleaner legs, buttons, beads and pasta shapes helps little fingers get creative. Who will win the monster parade?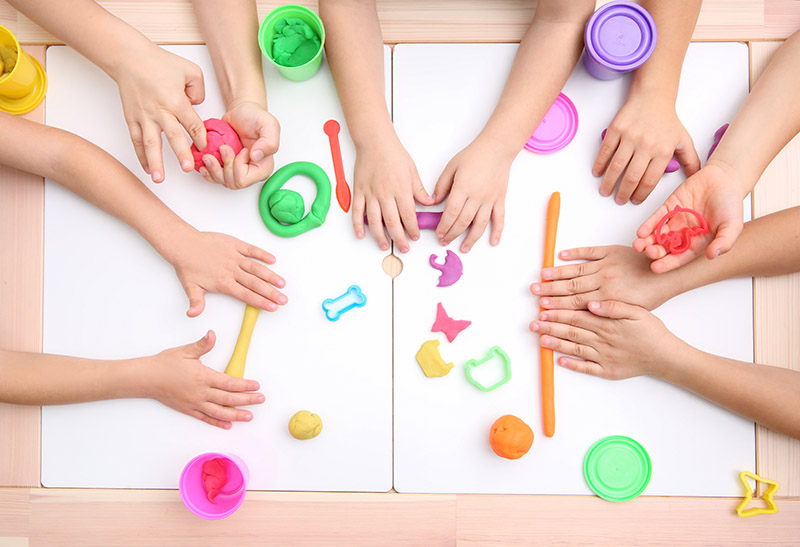 7. Cut and stick collage
Coloured squares of paper, a sheet of A4 paper, scissors and glue is all you need to make a colourful collage. Get cutting and sticking these small squares of paper so they overlap and build up a picture or make a pattern with no gaps between them.
8. Find a fastener fast
How quickly can you and your child find your own clothes that fasten in different ways? Buttons, zips, hook and loop fastenings, poppers, hook and eye clasps… Collect them in a laundry bag and then get dressed in as many clothes as you can, making sure that you've fastened them up! Reverse the game and make sure that all the clothes get put away again!
9. Cutlery creepy crawlies
Roll out six long pieces of playdough. Using a plastic knife and fork, how many small worms can you create by using a knife and fork to cut the playdough into pieces? Try our differentiated activities on the EdPlace website for Maths for more help on fractions.
10. Finger blobs
Only using fingers or thumbs, how many different print pictures can you make with the paint on paper?
11. "Stack it cup!"
Use those left-over party cups to create a stacking game to practice control. How tall can your tower get? How many cups can you use before the stack falls over? Which is the best way to stack the cups to keep them standing for longer?
12. Dotty dots
Print off free online dot-to-dot worksheets to help your child practise holding and keeping control of a pencil. Learning numbers at the same time is an added bonus! More help is at hand with our differentiated Maths resources for number work and counting on our EdPlace website!
13. Tweezer time
Oversized plastic tweezers are available cheaply online and are ideal for gripping and squeezing movements to pick up buttons, pasta shapes, beads or pebbles to move them to small bowls to sort them.
14. Paperclip chain
In one minute, how many paperclips can you link together to make a chain? Can you lengthen your chain each time you play? Fiddly!
15. Peg pick up
Have a pile of wooden or plastic clothes pegs on the table. Practise squeezing and pegging the clothes pegs onto a long ruler, around a flowerpot or bowl. Wooden clothes pegs could have letters marked on them to practise making words at the same time. Get them ready for the weekly spelling test in class! See our differentiated activities on the EdPlace website for English for more help with phonics, spelling, word building and handwriting practice.
16. Care with colouring
Take time to sit with a colouring book to show your child how to colour in shapes without going over the borders and how to cover the shape completely with colour. Sit together and colour your own or a shared picture. Therapeutic, bonding, effective and calming!
17. Rubberband stretch
Using rubber bands, practise stretching these and putting them over a snack or sweet tube. Alternatively, hook the rubber bands around two fingers and see how far you can stretch your fingers apart with the band in place. Try with other fingers and thumbs to build finger strength and control.
18. Brick building
Using smaller sizes of building bricks, practise manipulating and building shapes, patterns or structures.
19. Tiddlywinks rule
Teach your child how to play Tiddlywinks, flicking the counters into a bowl or cup. Fingers have to manipulate and direct the counters accurately to score!
20. Loopy lacing
Fold a sheet of A4 paper into horizontal strips, over and under to create a corrugated shape. Punch holes with a hole punch roughly every 3 cm along the folded paper. Open up the paper and you have a ready-made lacing template to practise threading ribbon or string through.
Having a ready-made box with some or all of these objects inside is ideal for practising fine motor skills at a moment's notice, especially if it means livening up a wet afternoon indoors or creating a competitive game that you can all enjoy! Have fun!
How can EdPlace help students with SEND?
We have a range of differentiated worksheets covering the National Curriculum in Maths, English and Science with easy accessibility features using our special toolbar to provide easier access for pupils with SEND. Change fonts, colours and more – we're here to help all students succeed, no matter what their learning style. Take a look!
Test our accessibility toolbar for free on these worksheets:
For further information on Dyspraxia and Dysgraphia, visit the following websites:
https://www.dysgraphiahelp.co.uk/parents/