Welcome net detective, we've got a puzzle just for you!
Look at the following 3D shape:

If we unfold it, it could look like this:

We call this a net.
A net is made of 2D shapes which fold together to make a 3D shape.
These nets could also fold together to make a cube: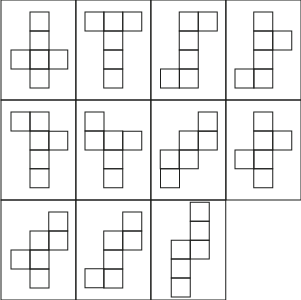 Imagine that the net below is folded together:

What would it look like?
a)

b)
c)

Did you choose option c?
This is the only net from these options that can be folded together to make a cylinder.
It's now your turn to visualise folding nets together to see what shape they will make.
Pssstt!! Here's a handy hint to help you reach superstar status:

If it helps, you can draw the net on a piece of paper and fold it together.
Good luck, 3D shape superstar!