In this worksheet, children must subtract decimals with one decimal place.
Example
Find out the difference.
5.1 - 2.4 = ___
Answer
Number Line Method

Look at the number line.
Start at 5.1 and move back two units to get to 3.1.
Then subtract 4 tenths to get to 2.7
The answer is 2.7
Column Subtraction Method
Set out a column subtraction and start subtracting at the right-hand tenths end.
Notice that we need to borrow from the units column.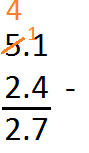 The answer is 2.7