This worksheet is about reading scales.
Example
Read the mass & write the answer in kg.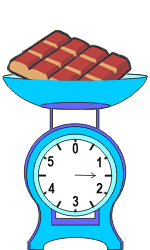 Kilograms
Answer
The arrow is pointing half way between the 1 and the 2. This shows 1.5 kg.
Remember that this is 1500 g (grams)
Remember
1000 ml = 1 l
1000 g = 1 kg
Want to understand this further and learn how this links to other topics in maths?
Why not watch this video?