This activity is about the column addition of decimal numbers.
It is important to line up the decimal points.
Example
Do the following addition.
7702 + 77.02 + 770.2 = _____
Answer
Line up the decimal points and insert extra zeros to help fill spaces in the columns.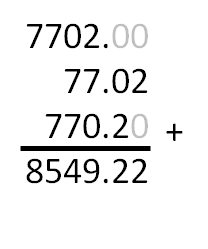 The answer is 8549.22
Easy, right?! How do you feel about some questions now?