Ratio and proportion questions now make up a huge percentage of the GCSE Maths papers (40%). One of the most common ways for the examiners to test this knowledge is by using recipe-style questions.
Example: A recipe is shown for 12 biscuits. Find out...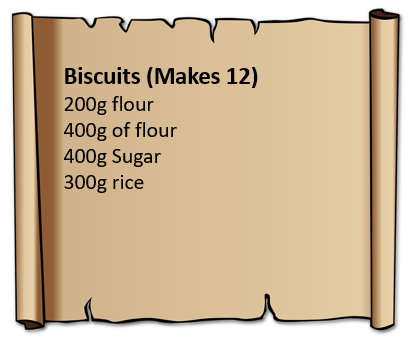 a) How much flour is needed for 9 biscuits.
To do this, we need to find the common factor of 12 and 9.This is 3.
We now find out how much flour is needed for 3 biscuits.
12 biscuits = 200 g of flour
3 biscuits = 50 g of flour
From this we can see that...
3 biscuits = 50 g of flour
9 biscuits = 150 g of flour
b) How many biscuits can I make if I have 1 kg of flour and plenty of each of the other ingredients.
In this question, the flour is what will limit the amount of biscuits.
I have 1kg (1000g) of flour.
Each batch of 12 needs 400g of flour.
1000 ÷ 400 = 2.5 batches
1 batch = 12 bisuits so 2.5 batches = 12 x 2.5 = 30 biscuits.