The environment is the surroundings in which all plants and animals live. All living things in an environment depend on each other.
The diagram below is called a food web. It shows us how different animals that share the same environment, feed off each other and compete for food.
In the food web below, the owl and snake compete for the mice.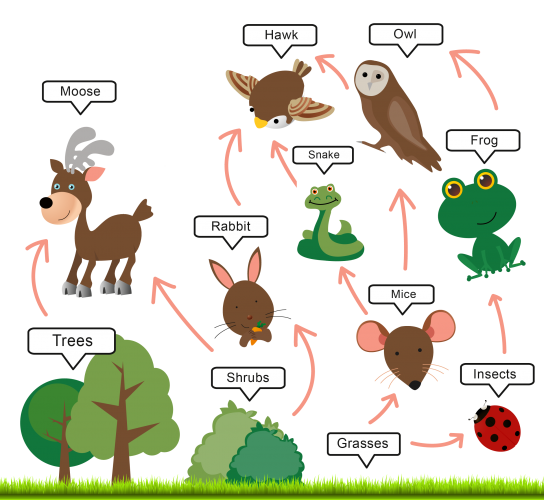 Food webs also allow us to predict what might happen to an animal if the environment changed.
If we change our environment, by building something or digging something up, it can be quite dangerous for plants and especially animals.
For example, if we were to destroy the shrubs in the food web, the rabbits in the environment would have nothing to eat and eventually the rabbits would die.
The hawk also would have less food available and would only be able to eat the snake. The number of snakes in the environment (the population) will go down because that's the only animal the hawk can eat (as there are no rabbits). As there are now fewer snakes in the environment, the mouse numbers go up!
So we can see that changing one thing in our environment can have a knock-on effect on others!