Before we look at displacment reactions it is important to review the reactivity series. The reactivity series lists metals in order or reactivity from the most reactive to the least reactive.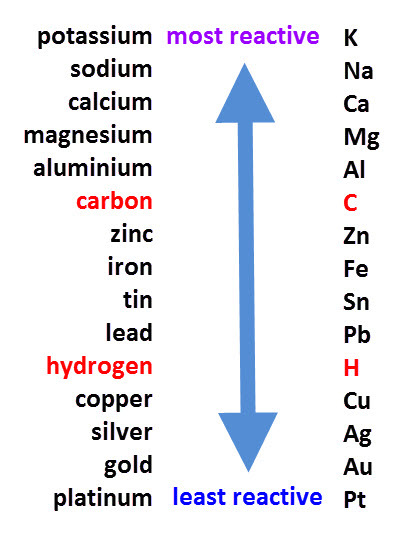 When looking at displacement reactions, it is important to refer to the reactivity series, because a displacement reaction is one in which a metal displaces a less reactive metal from a compound. This is better illustrated in an equation:
Magnesium + Copper sulfate

Magnesium sulfate + Copper
The copper is displaced from the compound by the magnesium, because the magnesium is more reactive. In the lab this reaction would result in a colour change. Copper sulfate is blue in colour and the copper metal formed is brown in colour.
| | |
| --- | --- |
| | |
| copper sulfate | copper metal |
The reactivity series can be used to predict displacement reactions. For example:
Zinc will react with iron nitrate because zinc is more reactive than iron, but zinc will not react with magnesium nitrate because zinc is less reactive than magnesium.
ZInc + Iron nitrate

Zinc nitrate + Iron
Zinc + Magnesium nitrate

NO REACTION
Displacement reactions can be very useful. One example of a useful displacement reaction is the thermite reaction. This is the reaction between iron oxide and aluminium. The reaction is highly exothermic (gives out heat) and the iron produced is in the molten state. This molten iron can then be used to mend broken railway tracks, as can be seen in the picture below: