* Essay Writing Competition Entry *
For our exciting 'My Summer Adventure' competition, we asked our students to tell us about their summer in an essay. In our 'My Summer Adventure' mini blog post series we share the best essays selected by our English teacher. Read here Kirisinika's (age 7) essay. She describes her Legoland adventure. Well done Kirisinika!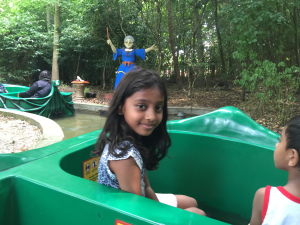 On a bright, lovely morning the sun woke me also my mum woke me up. I was so excited because I and my family decided to go to LEGOLAND with my cousins. So I brushed my teeth and got ready. Then I went downstairs and had my breakfast. Next my brother did the same thing. After two or three minutes my cousins came. When we saw them, they saw me and they came inside. We talked for a little bit of time and then we left. It took us 45 minutes to get to LEGOLAND. We arrived at LEGOLAND just in time. Then we parked our car and stood there in a huge line. In 15 minutes we reached the place where we give the tickets. After we did all of that we bought my brother and my cousin sister trolley so that they can sit on .We only bought one trolley so that two people can sit in the trolley. They both sat on it. After we got the trolley we decided to go on one of the play set. Next we played on a different kind of set, it was a fun set to play with. It was so amazing. Then we saw one of the Lego man, when we saw one of the Lego man we took some pictures with him.
The next play set is that we have to beat the other trucks if you did not beat the other trucks you lose.
The first rule is that we have to push something and the truck takes off. After we got to that place we have to get out and get the water into the middle size circle. Then we do the same thing but we have to get in the truck and go back to the finish line. After that we went on the hot balloon. We have to stay in the long cue. We have to stay in the front of the cue. One of the girls looked at our height so that we got on one of the hot balloon.
When we got in the hot balloon the same person told us to pull the string so that we can come higher and higher. If you let that string it might go down. Then they will stop the hot balloon and the hot balloon and it will go down. Next they will take us out. After that my brother and my cousin sister went to a driving lesson my brother and my cousin sister past their driving test. They both have licenses after all .Then we went on a fun helicopter. The fun helicopter bounces and it turns around .It was great fun. A while later my mum said "let's go on the train". So we went on the train. We went on the train because we wanted to see some other play sets that we can play on. Then we finished that ride. Next we went to a cinema. It was a 4D movie. In the movie there was lots of characters.
All the characters are made out of Lego .Next there was so much cold in the cinema room. After that there was actually real fire on the stage. Suddenly I found some bubbles to cheer children up because they might have got scared of the fire. Next there was soap around because they wanted to trick the other people that it was snow but it was actually soap. Next we went to the water park in the water park there was lots of things to play with. So we got changed in a room. Then we put our hats on to protect our hair. So we went to play but my brother didn't want to play in the water because the water was to cold. When I went inside to the water park the water was to cold but I still played in the water park. I went up with my cousin sister and my cousin brother and their father came with us also to make us safe. Then we went to the gate and there was a lady next to the gate, she said that "There's a lot of children in the higher water park so we have to wait for 20 minutes", but then we got out of the water park and put new clothes on but me and my cousin sister were wearing the same dress. But then my mum and my brother came with a little bit of yummy popcorn. We ate popcorn after we dressed up.
Next we went to the park before we played in the park we took a picture when we all were in the little house. Then all of us played on different equipment. Then we finished and we saw a Lego family, we took picture with them. After that we went to the car and went home. After we went home we ate Macdonald's .
Finally they said "good bye" and went home.
The end of my trip to LEGOLAND.
---
What does it mean to write an essay? Where do you begin? Aren't essays just something you write in school? See our teacher's tips and guide to essay writing for students and for parents.