In this worksheet, you must answer questions to find out what time something ends, or how long it takes.
Example
Jack went to the shop at 9:30.
He came back half an hour later.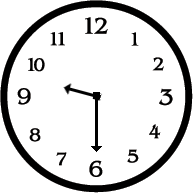 At what time did he come back?
Answer
Half an hour is 30 minutes.
Jack comes back at 10:00
Want to understand this further and learn how this links to other topics in maths?
Why not watch one or both of the following videos?