Most of the time, small hydrocarbon molecules are more useful than long ones. Unfortunately, a lot of crude oil contains very long molecules. What can we do about this?
Cracking is the name for processes which break long hydrocarbon molecules into shorter ones. We don't add or remove any atoms - we just break the molecule into shorter pieces. All that we need to do is to heat long-chain hydrocarbons, so that they turn into vapour. We then pass the vapour over a hot catalyst in order to speed up the reaction. Alternatively, we can mix the hydrocarbon vapour with very hot steam. We can do this on a very large scale in a chemical works, but it also works as a small-scale experiment: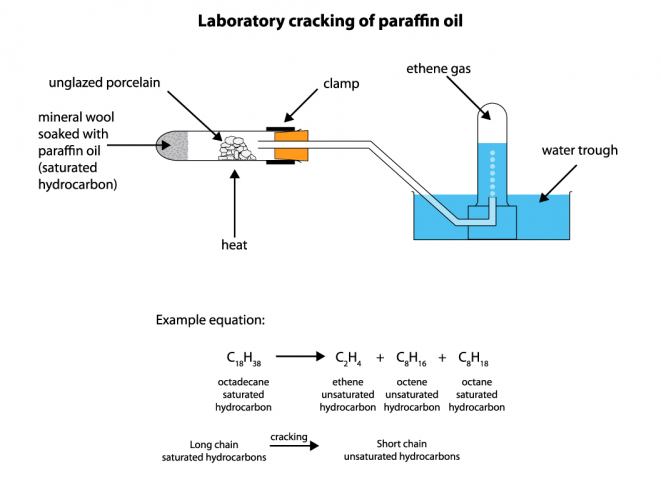 If we start with liquid octadecane, and are able to make a gas, that proves that we have broken the large molecules into smaller pieces because only small hydrocarbon molecules are gases at room temperature.
Molecules in a cracking reaction
Let's look at the molecules in this reaction close-up: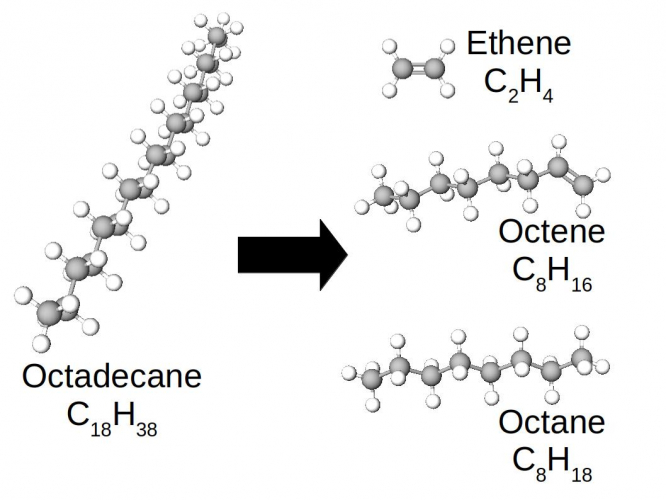 In this case, the long molecule of octadecane has been broken into three smaller pieces. One of them is a smaller alkane (octane), but the other two are a bit different. Look at the bond between the carbons in ethene, or the rightmost C=C bond in octene. They are double C=C bonds, not single C-C bonds. Ethene and octene are examples of another series of hydrocarbons, called the alkenes.
Alkenes
Alkenes are another series of hydrocarbon molecules, like alkanes. The difference is that alkenes have a double C=C bond somewhere in the structure - in alkanes, all the bonds are single C-C bonds. This means that the general formula of alkenes is CnH2n. The names follow the same pattern as for alkanes:
| Number of carbon atoms | Formula | Name |
| --- | --- | --- |
| 2 | C2H4 | Ethene |
| 3 | C3H6 | Propene |
| 4 | C4H8 | Butene |
| 5 | C5H10 | Pentene |
We can test whether a chemical is an alkane or an alkene by adding it to bromine water, which is orange. Alkenes will turn the water colourless, but alkanes will do nothing, so the water stays orange.
Alkenes are useful because they are the raw material for many plastics. We can break open one of the two bonds in the double bond, and that allows us to join alkene molecules together to make materials called polymers. There is an activity on polymers to help you to learn about these.
So, to summarise, cracking happens when we heat long alkane molecules into a vapour, and pass the vapour over a catalyst, or mix it with steam. This breaks long alkane molecules (which aren't very useful) into smaller molecules. Some of these are useful small alkanes, and others are alkenes, which can be used to make plastics.