This worksheet is about combinations of colours.
Example
Terry has a blue, a yellow and a green shirt.




He also has blue, yellow and green pairs of shorts.





He can wear them in different ways.
Here is one way.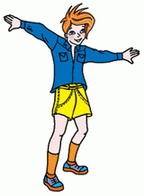 Choose the other ways in which yellow shorts can be worn.
Answer:
yellow shorts and green shirt
yellow shorts and yellow shirt