In this worksheet, you must subtract sums of money using column subtraction with borrowing.
Example
Subtract the following
£ 9.86 - £ 8.90
Answer
We set out a subtraction in columns, remembering to borrow if necessary.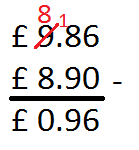 Remember, there might be more than one way to write a correct answer when you calculate with money.
£0.96 = 96pence