In this activity you will read the legend of Paul Bunyan piece by piece so you can try to predict how the story develops.
********************************
The Legend of Paul Bunyan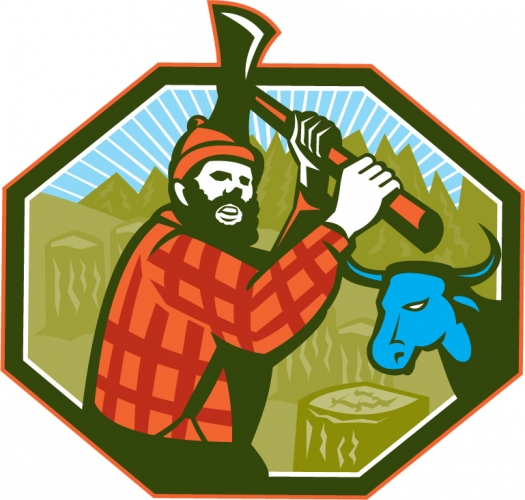 It was in the middle of the night in Bangor, Maine USA, that the great noise was first heard. It was a cry that sounded like 10,000 gulls screaming as they swooped for fish. Mr and Mrs Bunyan looked out of their wooden cottage towards the river that led to the great ocean and saw five enormous storks struggling to fly overhead. They hauled a great bundle behind them, from which came the great screaming. The storks flew closer and closer and finally came to land outside their front door, gently placing the enormous bundle on the ground. They stepped back and bowed their heads. Mr and Mrs Bunyan were amazed.
"What on earth, Pa?" exclaimed Mrs Bunyan.
Mr Bunyan was pale, both with the noise and the shock. He crept quietly up to the vast bundle which had, at last, fallen silent. He peeped over the edge, then suddenly fell over backwards as the bundle screamed and bowled him right over.
********************************
Use the start of the story to answer the first questions. Then read on to try and work out each part of the story, using what you have read so far.