Read this extract from 'A Christmas Carol' by Charles Dickens. This is the very beginning of the book, where the character of Scrooge is described for the first time.
************************
Oh! But he was a tight-fisted hand at the grindstone, Scrooge! a squeezing, wrenching, grasping, scraping, clutching, covetous, old sinner! Hard and sharp as flint, from which no steel had ever struck out generous fire; secret, and self-contained, and solitary as an oyster. The cold within him froze his old features, nipped his pointed nose, shrivelled his cheek, stiffened his gait; made his eyes red, his thin lips blue; and spoke out shrewdly in his grating voice. A frosty rime was on his head, and on his eyebrows, and his wiry chin. He carried his own low temperature always about with him; he iced his office in the dogdays; and didn't thaw it one degree at Christmas.
External heat and cold had little influence on Scrooge. No warmth could warm, no wintry weather chill him. No wind that blew was bitterer than he, no falling snow was more intent upon its purpose, no pelting rain less open to entreaty. Foul weather didn't know where to have him. The heaviest rain, and snow, and hail, and sleet, could boast of the advantage over him in only one respect. They often 'came down' handsomely, and Scrooge never did.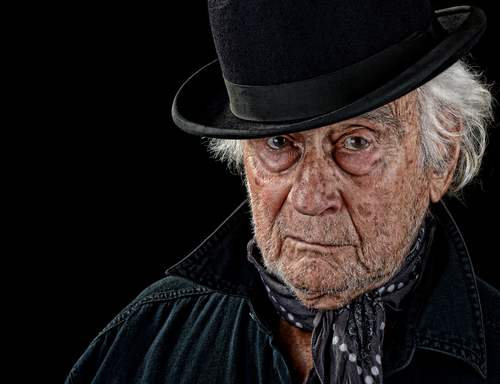 ************************
Think about how Charles Dickens (the writer) is influencing us to think about Scrooge in a certain way.
If you need to read the extract again as you work through the questions, you can click on the Help button by the questions.