Smash the 11+ exams with EdPlace!
We're revolutionising 11+ preparation for your child. With an EdPlace account, you'll have access to non-verbal, spatial and verbal reasoning resources for ages 8-11 tailored to CEM or GL exam boards; plus 11+ specific English and Maths practice. Track and measure your child's exam readiness and build their confidence so they're more than ready to show their skills come test day!
Get ahead of the game with EdPlace's holistic approach

Tailored resources relevant to exam boards CEM and GL

From ABCs - GCSEs, EdPlace is here for the 11+ and beyond

With a learn, practice and test method proven to improve scores and speed

Discreetly progressing your child from year 3 onward to remove 11+ pressures; making learning enjoyable so they feel confident

We're here to help your child smash whatever comes their way! Our students progress 150% across English, maths and science over a school year - now that's genius!
11+ activities, exam-style questions and practice papers
Here at EdPlace, we believe that helping your child achieve their best on the 11+ exam doesn't start in year 5. It's important to understand your child's full potential and help them develop the skills needed as early as year 3. This will also help you gauge your child's prospects, ensuring they really shine at grammar school. Our aim is to help take away the exam pressure for your child whilst building their skills and confidence so they can achieve their best. Our revision resources are designed to help students aged 8 to 11 build up to the skills and levels needed to pass the 11+. We're confident our non-verbal, spatial and verbal reasoning, maths/numerical reasoning and English resources tailored to CEM and GL will help your child soar; and whatever the outcome, we'll be here to support them on the other side of the 11+ exam too, right up to GCSE!
Most CEM exams contain a mix of questions and subjects within one exam. Typically, one 11+ paper combines English and Verbal Reasoning skills, whilst a second paper would test children on Maths and Non-Verbal reasoning. Depending on the specific school or region, Standard Format, Multiple Choice, or a combination of both may be used in one exam and this may change year on year. CEM papers also tend to contain small, timed sections which change between subject areas rapidly. For example, a paper could move from Maths questions to Problem Solving and Logic type questions.
Our resources are designed to teach skills through our teacher-guided activities and then discreetly test your child with exam-style questions and practice papers. Giving you visibility to their progress.
How to use our resources to achieve results
Learn the skills using our resources, practice what you've learnt with our exam-style questions and test for exam readiness with our practice papers - success!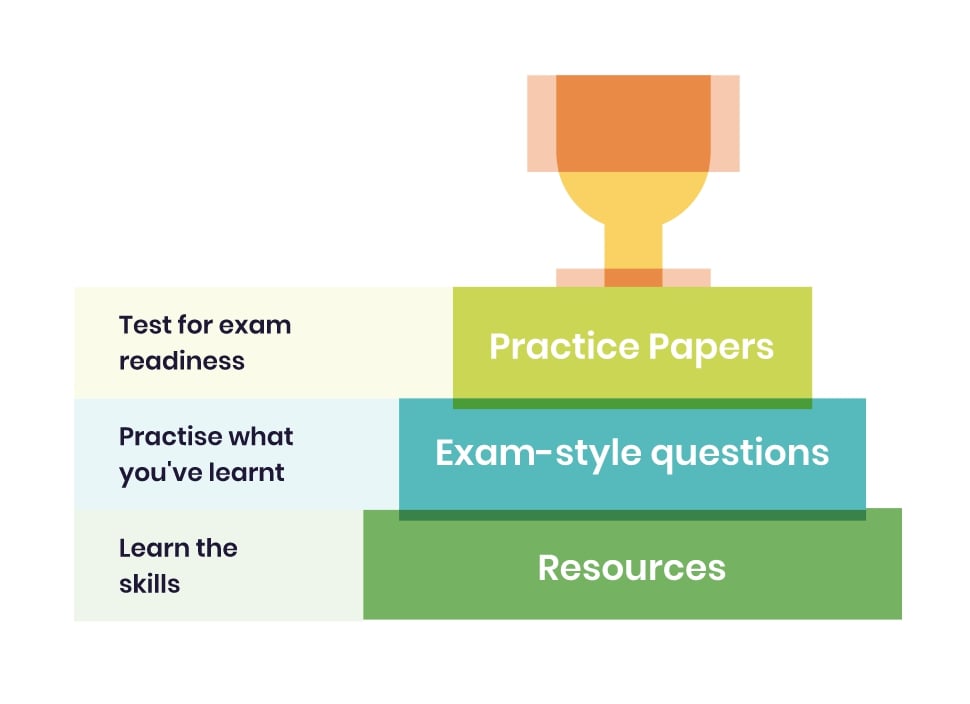 11+ advice and support
We're here to help you support your child's 11+ preparation. Here you'll find valuable advice about your region, schools, exam boards, preparation and more.