Imagine you are walking on a field getting instructions over a radio. You get told to turn 40° and walk forward.
How do you know you are going the correct way? Did you turn 40° clockwise or anticlockwise?
While this situation may sound false, this situation comes up alot in navigation.
How do we solve this problem?
To solve this, we use bearings.
Bearings are a way of defining an angle that will mean the angle is always defined correctly.
The three rules of bearings.
1) Bearings are always measured from North (Directly up on a map).
2) Bearings are always measured Clockwise
3) Bearings are always written with 3 figures (i.e. 40° would be written as 040)
Example: Point A is on a bearing of 043 from point B. What is the bearing of B from A?
This is best if you sketch it out first: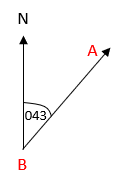 It's important to put A and B in the correct place. The questions asks for the bearing from B, this means that the bearing starts from B.
Next, we identify the return bearing.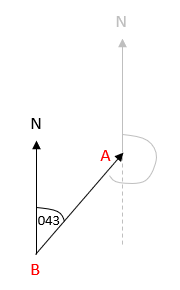 We are asked for the bearing of B from A. We need to draw a line straight up (North) and then go clockwise until we get back to the line.
Finally, work out the angle.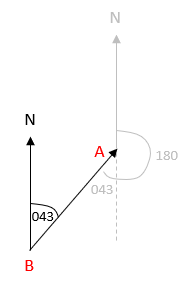 A line straight down must give the angle 180.
Because the two lines going up are North, this means they are parallel so we can say that the rest of the angle is 043.
This gives the reuturn bearing (B from A) as 180 + 43 = 223°